Diez, Nueve, Ocho: A Caldecott Honor Award Winner (Paperback)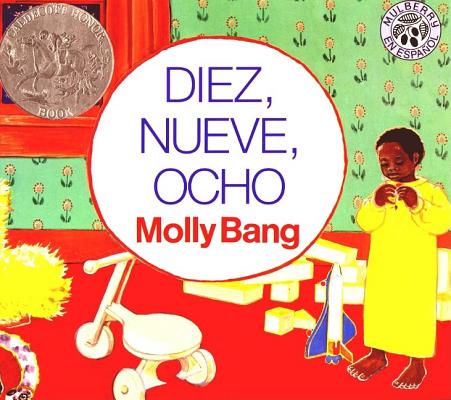 Description
---
This high-quality Spanish-language book can be enjoyed by fluent Spanish speakers as well as those learning the language, whether at home or in a classroom.
A Caldecott Honor Book and ALA Notable Book
A bedtime book and a counting book!
"A delightful bedtime book."—New York Times
Acclaimed author Molly Bang shares the going-to-bed countdown in a loving family. "Ten small toes all washed and warm," begins the story, and then young readers journey toward tuck-in time, counting down along with the story's African-American father and daughter. In the satisfying conclusion, one little sleepyhead settles in for the night. An award-winning classic, Ten, Nine, Eight has been comforting and delighting children and their parents for more than thirty years.
"This beguiling picture book, with a palette of eye-filling colors, appears to arise naturally from the love binding a father and his little 'big' girl who turn bedtime into playtime with a rhyming game."—Publishers Weekly  
'Diez deditos lindos, limpios y calentitos ... Nueve arnigos suaves en un cuarto calladitd'. Es hora de ir a la cama y el papá pone a dormir a su pequeña hija con una cálida y serena cuenta regresiva hacia el pañs de los sueños.
About the Author
---
Molly Bang lives in Falmouth, Massachusetts.

Molly Bang lives in Falmouth, Massachusetts.