Noor (Hardcover)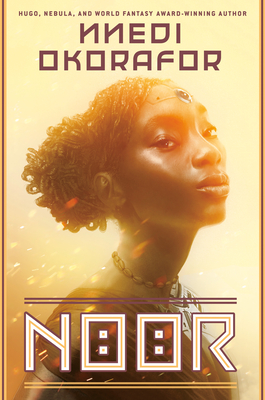 $27.00

Not In Store - Available to special order for pickup or ship. For even speediest shipping we suggest our Bookshop.org page!
Staff Reviews
---
I was completely swept up in the voice and scope of Okorafor's Noor. I have long been a fan of her novels and this story takes everything incredibly mind-expanding about Africanfuturism and blows it open like the wind-storm-nado at the center of this novel's crisis. What happens when colonialism takes yet another form with better marketing and advancement in human engineering is yet another way for us to isolate the most vulnerable in society. What follows is an adventure that only Nnedi Okorafor can transcribe and will have you lost in a world so close to ours with both its dangers and its triumphs equally possible. -- Hannah
— From
The Loyalty 100: FICTION
Description
---
From Africanfuturist luminary Okorafor comes a new science fiction novel of intense action and thoughtful rumination on biotechnology, destiny, and humanity in a near-future Nigeria.

Anwuli Okwudili prefers to be called AO. To her, these initials have always stood for Artificial Organism. AO has never really felt...natural, and that's putting it lightly. Her parents spent most of the days before she was born praying for her peaceful passing because even in-utero she was "wrong". But she lived. Then came the car accident years later that disabled her even further. Yet instead of viewing her strange body the way the world views it, as freakish, unnatural, even the work of the devil, AO embraces all that she is: A woman with a ton of major and necessary body augmentations. And then one day she goes to her local market and everything goes wrong.

Once on the run, she meets a Fulani herdsman named DNA and the race against time across the deserts of Northern Nigeria begins. In a world where all things are streamed, everyone is watching the "reckoning of the murderess and the terrorist" and the "saga of the wicked woman and mad man" unfold. This fast-paced, relentless journey of tribe, destiny, body, and the wonderland of technology revels in the fact that the future sometimes isn't so predictable. Expect the unaccepted.
About the Author
---
Nnedi Okorafor was born in the United States to two Igbo (Nigerian) immigrant parents. She holds a PhD in English and was a professor of creative writing at Chicago State University. She has been the winner of many awards for her short stories and young adult books, and won a World Fantasy Award for Who Fears Death. Nnedi's books are inspired by her Nigerian heritage and her many trips to Africa.
Praise For…
---
Praise for Noor

"A searing techno-magical indictment of capitalism from one of the strongest voices in fiction." —Kirkus Reviews (starred review)

"The novel's true magic lies in AO's stubborn, fierce will; in DNA's earthy compassion; and in their self-discovery and refusal to give into a power system determined to dehumanize and defeat them." —Booklist (starred review)

"Okorafor exposes the cracks in this technology-driven, highly surveilled society as each detour in AO and DNA's route adds layers of intrigue on the way to a jaw-dropping finale.... This is a must-read." —Publishers Weekly (starred review)

"Okorafor packs swift action and harsh emotions into this slim novella, showing her strengths once again as a speculative fiction writer." —Library Journal

Praise for Nnedi Okorafor

"Haunting and absolutely brilliant. My heart and guts are all turned inside out." —John Green, New York Times-bestselling author of The Fault in Our Stars

"Who Fears Death is one of the most striking, chilling, truly fascinating, and all-around remarkable novels I've read in a very long time." —Peter S. Beagle, bestselling author of The Last Unicorn

"Nnedi Okorafor is American-born but her Nigerian blood runs strong, lacing her work with fantasy, magic and true African reality. Many people need to read Who Fears Death, it's an important book." —Nawal El Saadawi, bestselling author of Woman at Point Zero

"To compare author Nnedi Okorafor to the late Octavia E. Butler would be easy to do, but this simple comparison should not detract from Okorafor's unique storytelling gift." —New York Journal of Books

"Both wondrously magical and terribly realistic." —The Washington Post

"Believable, nuanced characters of color and an unbiased view of an Africa full of technology, mysticism, culture clashes and true love." —Ebony Magazine (editor's pick)

"A fantastical, magical blend of grand storytelling." —Publishers Weekly (starred review)

"Beautifully written, this is dystopian fantasy at its very best. Expertly exploring issues of race, gender, and cultural identity, Okorafor blends future fantasy with the rhythm and feel of African storytelling. " —Library Journal (starred review)

"Her pacing is tight. Her expository sections sing like poetry. Descriptions of paranormal people and battles are disturbingly vivid and palpable. But most crucial to the book's success is how the author slowly transforms Onye's pursuit of her rapist father from a personal vendetta to a struggle to transform the social systems that created him." —The Village Voice

"Okorafor is a master storyteller who combines recent history, fantasy, tradition, advanced technology, and culture into something wonderful and new that should not be missed." —RT Book Review (top pick)