One Mean Ant with Fly and Flea (Hardcover)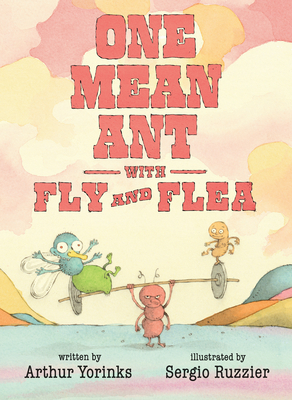 Available to order- email info@loyaltybookstores.com
Description
---
In a sidesplitting sequel to One Mean Ant, comedic masters Arthur Yorinks and Sergio Ruzzier set loose a fugitive from the flea circus.

Ant and Fly are back! And this time they're joined by Flea, newly escaped from the flea circus. Our mean Ant, the meanest ant there ever was, doesn't think much of the tiny, annoying Flea, until Flea's wits get them out of one sticky situation and . . . straight into another. Ant's famous temper can't save them now. The bugs are truly stuck with one another! Author Arthur Yorinks and illustrator Sergio Ruzzier return for the second story in a planned trilogy that introduces a new insect in each book. Picking up where the last tale left off, the text crackles with snappy banter and silly wordplay, while expressive illustrations capture all the entomological action. At heart an ode to the small but mighty, this zany sequel will deliver big laughs for the read-aloud crowd.
About the Author
---
Arthur Yorinks is a playwright, director, and author of more than thirty-five picture books for children, including One Mean Ant, illustrated by Sergio Ruzzier; Caldecott Medal winner Hey, Al, illustrated by Richard Egielski; and Presto and Zesto in Limboland, illustrated by Maurice Sendak. Arthur Yorinks lives in Cambridge, New York.

Sergio Ruzzier was a 2011 Maurice Sendak Fellow and is the illustrator of One Mean Ant. His books have received many awards, including Parents' Choice Gold Awards for This Is Not a Picture Book! and The Room of Wonders. He splits his time between New York and the northern Italian hills.
Praise For…
---
Ruzzier returns to the same pastel hues of the first book and nails the characters' expressive faces and body language. A cliffhanger wraps up the story, one that perhaps will resolve itself in the final book of the trilogy. Entertaining, especially for fans of wordplay.
—Kirkus Reviews