Pretending (Paperback)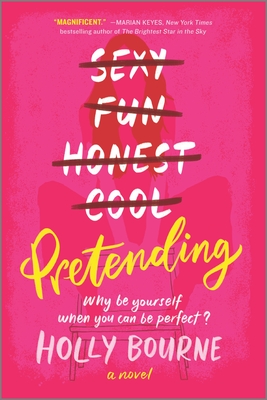 $17.99

Not In Store - Available to special order for pickup or ship. For even speediest shipping we suggest our Bookshop.org page!
Description
---
"It made me cry and laugh and rage...A really important, timely book. Sheer brilliance." --
Lucy Foley, New York Times bestselling author of The Guest List
"Thoughtful, smart and painfully true."
--Cosmopolitan UK
He said he was looking for a "partner in crime," which everyone knows is shorthand for "a woman who isn't real."
April is kind, pretty and relatively normal--yet she can't seem to get past date five. Every time she thinks she's found someone to trust, they reveal themselves to be awful, leaving her heartbroken. And angry. Until she realizes that men aren't looking for real women--they're looking for Gretel. Gretel is perfect--beautiful but low-maintenance, sweet but never clingy, sexy but not too easy. She's your regular, everyday Manic-Pixie-Dream-Girl-Next-Door with no problems. When April starts pretending to be Gretel, dating becomes much more fun--especially once she reels in the unsuspecting Joshua. Finally, April is the one in control. It's refreshing. Exhilarating, even. But as she and Joshua grow closer, and the pressure of keeping her painful past a secret begins to build, how long will she be able to keep on pretending? "The most freeing, reassuring book on dating after #MeToo I've read. Perceptive. Hilarious. Brilliant."
--Laura Jane Williams, author of Our Stop