Alternative Alamat: An Anthology: Myths and Legends from the Philippines (Hardcover)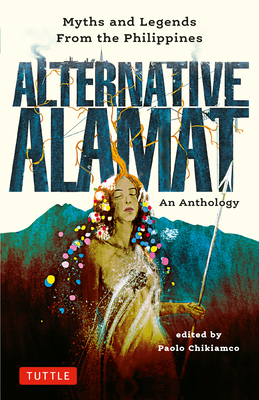 $16.99

On Our Shelves Now - Click to see location, time, and stock details
Description
---
An anthology of speculative short fiction from 12 talented Asian authors
Dip into the rich treasure trove of Filipino
alamat
(legends) with this new collection of contemporary short stories. This anthology includes works by a dozen talented and award-winning Filipino writers including Budjette Tan (
Trese
) and Eliza Victoria (
Dwellers
). Explore richly imagined realms where powerful gods and magical creatures are responsible for the twists and turns of fate in the lives of ordinary people. The 13 amazing stories in this collection include:
The fate of the lingering Sky Maiden
The diwata Maria Makiling seeking romantic partners in the human world
Depictions of Philippine deities, including Balitok, Bangunbangun, Dagau, Haliya, Hukloban and Melu
Encounters with celestial power beneath the sea, at the movies and in a pawnshop
And many more
Each tale is reimagined for a modern sensibility and reinvented for the current generation of fantasy fiction fans. This gripping collection is essential reading for anyone interested in magical realism and contemporary Filipino fiction.
About the Author
---
Authors: Budjette Tan, Eliza Victoria, Rochita Loenen-Ruiz, Raymond G. Falgui, James Dimacali, Mo Francisco, Raissa Rivera Falgui, Celestine Trinidad, Andrei Tupaz, David Hontiveros, Dean Francis Alfar and Andrew Drilon. Compiled and edited by Paolo Chikiamco. Illustrated by Mervin Malonzo. Paolo Chikiamco was trained as a lawyer but changed paths to establish Eight Ray Sun Publishing in 2009. His articles have appeared in the Philippine Daily Inquirer, Philippine Online Chronicles, and Code RED magazine. Chikiamco has also published stories in The Digest of Philippine Genre Stories, A Time for Dragons, and The Farthest Shore. He is the co-author of Muros: The Cemetery Girl. Budjette Tan is co-founder and editor-in-chief of Alamat Comics in the Philippines. However, he is best known for writing the urban fantasy comics series Trese, co-created with artist Kajo Baldisimo. It received the Philippine National Book Award for Best Graphic Novel in 2009, 2011, and 2012, and has since been adapted into an animated series by Netflix. He is also the co-creator of the award-winning Mikey Recio and the Secret of the Demon Dungeon. Eliza Victoria is the author of several award-winning novels including the Philippine National Book Award-winner Dwellers (2014), Wounded Little Gods (2016) and her science fiction collection Nightfall (2018). Her fiction and poetry have appeared in online and print publications, including in LONTAR: The Journal of Southeast Asian Speculative Fiction, The Best Asian Speculative Fiction, The Dark Magazine, Dark Regions Press's Stranded: Lone Survivor Deserted Island Horror Stories, and The Apex Book of World SF Volume 5. Mervin Malonzo is the author and illustrator of the comic Tabi Po, which received a Philippine National Book Award in 2014 and was adapted to a TV mini-series in 2017. He has collaborated with a variety of authors to produce books about Philippine mythology like The Lost Journal of Alejandro Pardo, The Black Bestiary: An Alejandro Pardo Compendium, and After Lambana. In his free time, he works on developing an animated series and film based on a comic called Ella Arcangel and operates the indie publishing house Haliya. Rochita Loenen-Ruiz has published her work in Weird Tales, Fantasy, Apex and the Philippine Speculative Fiction Anthology, The Second Apex Book of World Science Fiction and Realms of Fantasy. Raymond G. Falgui teaches at the University of the Philippines. His short fiction has appeared in the Philippines Free Press, Philippines Graphic, Playboy Philippines, Likhaan, Philippine Speculative Fiction, and the Digest of Philippine Genre Stories anthologies. Timothy James M. Dimacali received his degree in creative writing from the University of the Philippines and is currently the Science and Technology Editor for GMA News Online. He has been a fiction fellow at the annual Silliman University National Writers Workshop and the Iligan National Writers Workshop. Mo Francisco has published stories in the Philippine Free Press, Philippines Graphic, Speculative, and Fiction IV. Raissa Rivera Falgui writes fiction for both children and adults. She won first prize in the futuristic fiction category at the 2002 Palanca Awards and second for children's short stories in the 2002 and 2006 awards. Her recent fiction has appeared in Tahanan Books' The Night Monkeys and UP Press's Bagets anthology. Celestine Trinidad is an author and physician whose stories have appeared in Philippine Genre Stories, Philippine Speculative Fiction IV, Philippines Free Press and Usok. In 2008, she won the Don Carlos Palanca Memorial Award for Literature for her children's short story "The Storyteller and the Giant." Andrei Tupaz received a degree in creative writing and has worked as an author, English teacher, and IT specialist. He lives in New Zealand. Dean Francis Alfar won the Book Development Association of the Philippines' Gintong Aklat Award and the grand prize in the Don Carlos Palanca Memorial Awards for Literature for his novel Salamanca. He has nine more Palancas to his name, as well as two Manila Critics' Circle National Book Awards, the Philippine Free Press Literary Award, and the Philippine Graphic/Fiction Award. His short fiction has been collected in The Kite of the Stars and Other Stories, How to Traverse Terra Incognita, The Apex Book of World Science Fiction, and more. Andrew Drilon has been a comic book artist for well over a decade. He received a Philippine Graphic/Fiction Award and was a finalist for the Philippine Free Press Literary Award. David Hontiveros was a 1997 National Book Award finalist in the best comic book category for Dhampyr and a 2002 Palanca Award winner for his short story "Kaming Mag Seroks." In addition to being a founding member of Alamat Comics, he is the author of Craving, Parman, and Takod and the Seroks science fiction collections. His ongoing comic book series "Bathala: Apokalypis" is available digitally.