A More Beautiful and Terrible History: The Uses and Misuses of Civil Rights History (Paperback)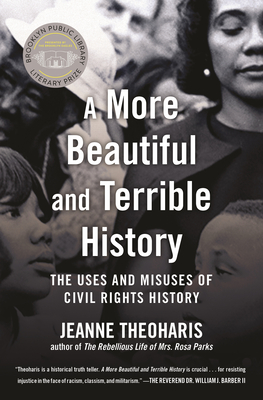 $18.00

On Our Shelves Now - Click to see location, time, and stock details
Description
---
A look at the centrality of the civil rights history to American politics and national identity—and the fable that has grown around that movement

From the author of the best-selling The Rebellious Lifeof Mrs. Rosa Parks comes "a bracing corrective to a national mythology" (New York Times) around the civil rights movement

The civil rights movement has become national legend, lauded by presidents from Reagan to Obama to Trump, as proof of the power of American democracy. This fable, featuring dreamy heroes and accidental heroines like Martin Luther King and Rosa Parks, anchors the movement firmly to the past, whitewashes the forces that stood in its way, and diminishes its scope.

Award-winning historian Jeanne Theoharis dissects this national myth-making, teasing apart the accepted stories to show them in a strikingly different light. She makes us reckon with the fact that far from being acceptable, passive or unified, the civil rights movement was unpopular, disruptive, and courageously persevering. Activists embraced an expansive vision of justice, which a majority of Americans opposed and which the federal government feared.

Her challenge of this fable reveals the immense barriers and repression activists faced. She explores the diversity of people who led the movement, especially women and young people; the work and disruption it took, including the public demonization of 'rebels;' and the role of the media and "polite racism" in maintaining injustice.

A More Beautiful and Terrible History will change our historical frame, revealing the richness of our civil rights legacy, the uncomfortable mirror it holds to the nation, and the crucial work that remains to be done.
About the Author
---
Jeanne Theoharis is Distinguished Professor of Political Science at Brooklyn College of City University of New York. She is author or co-author of seven books and numerous articles on the history of the Black freedom struggle and the contemporary politics of race in the United States. Theoharis's New York Times bestselling biography The Rebellious Life of Mrs. Rosa Parks won the 2014 NAACP Image Award and the Letitia Woods Brown Award from the Association of Black Women Historians.
Praise For…
---
"A bracing corrective to a national mythology that renders figures like King 'meek and dreamy, not angry, intrepid and relentless'…It's clarifying to read a history that shows us how little we remember, and how much more there is to understand."—New York Times

"Theoharis's lucid and insightful study. . .proffer[s] a deeper and more nuanced understanding of the civil rights movement's legacy, and showing how much remains to be done."—Publishers Weekly, Starred Review

"An important illustration of the ways that history is used, or misused, in modern social and political life. Required reading for anyone hoping to understand more about race relations and racism in the United States and highly recommended for all readers interested in 20th-century American history."—Library Journal, Starred Review

"A hard-hitting revisionist history of civil rights activism. . . . An impassioned call for continued efforts for change."—Kirkus Reviews

"Theoharis's view of history is expansive, including women and young people without whom the movement would have been impossible, detailing forgotten stories of activists' fights to gain a foothold in the ostensibly less racist North, and criticizing politicians (including Barack Obama) for oversimplifying complex figures. To call this slim volume a compelling attempt to reconcile fact and fable is to underestimate its ambition; what Theoharis desires is nothing less than to show us 'who we are and how we got here.'"—O Magazine

"Jeanne Theoharis is one of our nation's finest civil rights scholars. She brings an incisive, urgent and unique critical perspective to our understanding of an era that is increasingly distorted and misunderstood. A More Beautiful and Terrible History is an important book that sheds new light on our recent past and yields a fresh understanding of our tumultuous present."—Bryan Stevenson, author of Just Mercy: A Story of Justice and Redemption

"A More Beautiful and Terrible History paints a vivid picture of the intentional and deadly omissions within popular histories of the 1950s and 1960s, cutting a path through hardened ground to give us the tools for a caring and inclusive future."—Ericka Huggins, equity and inclusion educator and former member of the Black Panther Party

"Only truth sets us free. In this moment when we need fresh resistance movements, it is critical that we know the true history of the Black freedom struggle. Jeanne Theoharis debunks fables of the resistance to prove that the movements were not just spontaneous and did not immediately produce results; that young people and women were crucial to the leadership and drive; that polite racists impeded progress, not just virulent ones; and that those who became known as the leaders always understood that they were servants of the movement. The gift of this book is that Theoharis is a historical truth teller. A More Beautiful and Terrible History is crucial, and we must apply this wisdom—for today and always—to resist injustice in the face of racism, classism, and militarism."—The Reverend Dr. William J. Barber II

"In A More Beautiful and Terrible History, Jeanne Theoharis debunks nearly a dozen national fables of polite civil rights workers humbly petitioning the nation to become a 'more perfect union.' The propaganda of America's exceptionalist history, she demonstrates, not only distorts the truth of the nation's deep and recurring commitment to systemic racism. These 'mis-histories' of the civil rights movement discredit the actual and necessary work of antiracist activists today, whose youthful courage and creativity are the real legacy of the past."—Khalil Muhammad, author of The Condemnation of Blackness: Race, Crime, and the Making of Modern Urban America