The Stigma of Genius: Einstein, Consciousness and Critical Education, Second Edition (Counterpoints #111) (Paperback)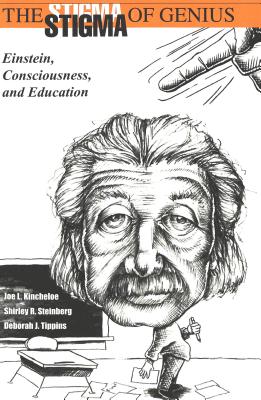 Other Books in Series
This is book number 111 in the Counterpoints series.
Description
---
In The Stigma of Genius: Einstein, Consciousness and Critical Education, we muse over ways in which to be, to become and to recognize uniqueness and different paths to genius. Understanding there is no prescribed procedure, we determine multiple actions, means and measures with which we recognize and teach to genius, we look at Einstein's life and knowledges to connect our pedagogies and students. Today's schools often exemplify an inability to stimulate and encourage students to find passion, goals and reasons to be educated. Many public school students do not succeed, they are disengaged, discouraged, and failing. Teachers are exhausted and overworked and lack respect and administrative support in districts controlled by local and national politics. Using Einstein as an example, but also a metaphor for educators, The Stigma of Genius is straight talk about the needs for schools/teachers/administrators/students to become critically and contextually aware. We argue for an education which is conscious of students' needs and the nuances within each school and each classroom. Discussing cognition, classes, urban education and diversity, we have attempted to circle back to Einstein and understand ways to support and encourage today's geniuses.
About the Author
---
Shirley R. Steinberg lives with the knowledge that she is not a genius. She has done about 500 hours in music, 1000 hours in foreign languages and is convinced she will never get 10,000 hours of anything. Originally a drama teacher, she took a radical left turn to complete a doctorate based on the criticalizing of media using bricolage, a philosophical research methodology she refined with Joe Kincheloe. Expanding her idea of pedagogy into cultural studies, her work blends the critical with the pedagogical and cultural. The author and editor of many books and articles, her research interests have generated (often with Kincheloe) Critical Multiculturalism, Christotainment, Kinderculture, and Postformal thinking. As Research Professor of Critical Youth Studies at the University of Calgary, she engages local, national and global community work with and for youth, refugees, immigrants and other disenfranchised groups. Joe L. Kincheloe was the Canada Research Chair of Critical Pedagogy at McGill University in Montreal. Born in the mountains of Tennessee, he was raised to recognize inequities within society and became the humble champion for the oppressed. Originally a junior high social studies teacher, his intuitions about the positivist nature of education were confirmed when he read Pedagogy of the Oppressed. After completing his graduate degrees, his first position was on the Rosebud Sioux Reservation, probably his most rewarding job. After several appointments in the US, he moved to Canada to (in his words) escape Bush's presidency. The author of 60 books and hundreds of articles, he is to be remembered as a rock n' roll musician, father, partner and sincere friend to many. His work continues to influence, as does the work of Paulo Freire, mentor and friend, to whom Joe attributed the notion of Radical Love. Edmund Adjapong is Assistant Professor of Education at Seton Hall University and a faculty fellow at The Institute for Urban and Multicultural Education at Teachers College, Columbia University and author of #HipHopEd: The Compilation on Hip-Hop Education Volume 1. Edmund is a former middle school science educator at a New York City public school in The Bronx. He is the director of the Science Genius Program, a program that engages urban students in the sciences through Hip-hop, and the director of The Science Genius Academy, a program that encourages and prepares students to pursue STEM careers while providing mentoring and support. Deborah J. Tippins is Professor of Education at the University of Georgia. She is the author of numerous books and articles and an international Fellow, a Lilly Teaching Fellow and member of the Teaching Academy at UGA. She is a recipient many awards, including several for innovations in science. She has been a Fulbright Scholar and works in community-based science education.