American Standards: Quality Education in a Complex World- The Texas Case (Counterpoints #192) (Paperback)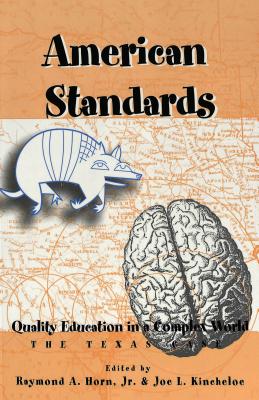 Other Books in Series
This is book number 192 in the Counterpoints series.
Description
---
American Standards provides a greatly needed critical review of the Texas standards and accountability model as it effects students and teachers in public schools and higher education. As standards and accountability in education are promoted nationwide, American Standards provides a conversational and scholarly critique of standards in general, and specifically the incredible twenty-year-old Texas phenomenon promoted by the presidential campaign of George W. Bush.
About the Author
---
The Editors: Raymond A. Horn, Jr. is Assistant Professor of Secondary Education and Education Leadership at Stephen F. Austin State University in Texas. He teaches critical theory and research methods to graduate students, and is the author of Teacher Talk: A Post-Formal Inquiry into Educational Change (Peter Lang, 2000). Joe L. Kincheloe is Professor of Education at the Graduate Center at the City University of New York and Professor of Education at Brooklyn College, where he has served as The Belle Zeller Chair of Public Policy and Administration. He often works with his partner, Shirley Steinberg, editing series such as Counterpoints: Series in the Postmodern Context of Education for Peter Lang Publishing. Dr. Kincheloe's books include: How Do We Tell the Workers?; Critical Politics of Teacher Thinking; Toil and Trouble (Peter Lang); Contextualizing Teaching; (with Shirley Steinberg and Patrick Slattery); Changing Multiculturalism (with Shirley Steinberg); Thirteen Questions: Reframing Education's Conversation (with Shirley Steinberg; Peter Lang); Getting Beyond the Facts (Peter Lang, forthcoming); and Teaching Social Studies in the Twenty-First Century.