Counterpoints: Possibilities for Moving from Theory to Practice in Urban Schools (Paperback)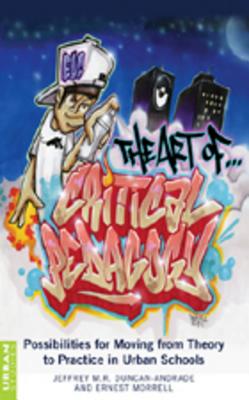 Other Books in Series
This is book number 285 in the Counterpoints series.
Description
---
This book furthers the discussion concerning critical pedagogy and its practical applications for urban contexts. It addresses two looming, yet under-explored questions that have emerged with the ascendancy of critical pedagogy in the educational discourse: (1) What does critical pedagogy look like in work with urban youth? and (2) How can a systematic investigation of critical work enacted in urban contexts simultaneously draw upon and push the core tenets of critical pedagogy? Addressing the tensions inherent in enacting critical pedagogy - between working to disrupt and to successfully navigate oppressive institutionalized structures, and between the practice of critical pedagogy and the current standards-driven climate - The Art of Critical Pedagogy seeks to generate authentic internal and external dialogues among educators in search of texts that offer guidance for teaching for a more socially just world.
About the Author
---
The Authors: Jeffrey M.R. Duncan-Andrade is Assistant Professor of Raza Studies and Education Administration and Interdisciplinary Studies, and Co-Director of the Educational Equity Initiative at San Francisco State University's Cesar Chavez Institute (http: //cci.sfsu.edu/taxonomy/term/28). In addition to these duties, he teaches a 12th grade English Literature class at Oasis Community High School in Oakland, CA, where he continues his research into the uses of critical pedagogy in urban schools. Before joining the faculty at SFSU, Duncan-Andrade taught English and coached in the Oakland public schools for ten years, and completed his doctoral studies at the University of California, Berkeley. Duncan-Andrade's research interests and publications span the areas of urban schooling and curriculum change, urban teacher development and retention, critical pedagogy, and cultural and ethnic studies. He has authored numerous journal articles and book chapters on the conditions of urban education, urban teacher support and development, and effective pedagogy in urban settings. He is currently completing a second book on the core competencies of highly effective urban educators. Ernest Morrell is Associate Professor in Urban Schooling and Associate Director for Youth Research at the Institute for Democracy, Education, and Access (IDEA) at the University of California at Los Angeles. For more than a decade he has worked with adolescents, drawing on their involvement with popular culture to promote academic literacy development. Morrell is also interested in the applications of critical pedagogy in urban education and working with teens as critical researchers. The author of three other books, Linking Literacy and Popular Culture: Finding Connections for Lifelong Learning (2004), Becoming Critical-Researchers: Literacy and Empowerment for Urban Youth (Peter Lang, 2004), and Critical Literacy and Urban Youth: Pedagogies of Access, Dissent, and Liberation (2007), Morrell received his Ph.D. in language, literacy, and culture from the University of California at Berkeley.