Hour of the Ox (Pitt Poetry Series) (Paperback)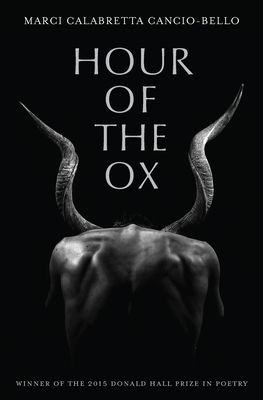 Description
---
Winner of the 2015 Donald Hall Prize for Poetry
Hour of the Ox received the 2015 AWP Donald Hall Prize for Poetry, selected by Crystal Ann Williams, who called it "a timeless collection written by a poet of exceptional talent and grace, a voice as tough as it is tender." Cancio-Bello examines the multiplicity of distance, wanderlust, and grief at the intersection between filial and cultural responsibility. Desires are sloughed off, replaced by new ones, re-cultivated as mythos. These poems offer a complex and necessary new perspective on the elegiac immigrant song.
About the Author
---
Marci Calabretta Cancio-Bello is the author of Last Train to the Midnight Market. She received a Kundiman Poetry Fellowship and the inaugural John S. and James L. Knight Fellowship at Florida International University, and currently serves as a program coordinator for Miami Book Fair, cofounding editor of Print-Oriented Bastards, and producer for The Working Poet Radio Show. Her poems have appeared in Best New Poets 2015, Columbia: A Journal of Literature & Art, Narrative Magazine, Southern Humanities Review, and other journals.
Praise For…
---
"Cancio-Bello follows Last Train to the Midnight Market (2013) with a second collection that makes clear the qualities that secured her the 2015 Donald Hall Prize in Poetry. Beginning with 'Anti-Elegy,' Cancio-Bello summons life and death as she embarks on a mythic journey into her family's past. Images of the sea and all that it contains, of travel and distant lands, create an ethereal setting. The emotional stronghold she creates using sparse language and vivid imagery fills the emptiness rendered by sadness and grief and expresses feelings of desire, obligation, and love. Drawing on the ancient tales of far-off places, Cancio-Bello contemplates the search for  home and how the word home and the concept home establish themselves in our psyches and resonate with hidden meanings. As she prepares us for sorrow, she also reminds us of its retreat, and in this way emphasizes that life is an accumulation of experiences and perceptions."
 

"Hour of the Ox is a timeless collection written by a poet of exceptional talent and grace, a voice as tough as it is tender. Poignant and beautifully composed, these elegies hum with emotional potency and moved me beyond measure. This immigrant story emerges through the hands, mouths, hearts, mournings, and voices of a family an ocean away and is exquisite, lyrical, and an incredible and rare gift."
—Crystal Ann Williams

"A striking and rare combination of spare precision and rich details, Hour of the Ox tells a quiet, yet grand and universal tale of place and displacement, loss and renewal, illusion and disillusion. This is one of the most compelling books of poetry I've read in years, not simply because of its seamless craft, but more so because of its pure and urgent voice possessed by that ineffable quality that makes poetry, poetry."
—Richard Blanco, Presidential Inaugural Poet, author of Looking for The Gulf Motel
 

"Marci Calabretta Cancio-Bello's powerful debut introduces us to a world where the modern elegy sings across ocean and bone, and where it's possible 'storms fanned from the ears of elephants.' This magnificent book is 'not a love song, nor a glossary of despair,' but rather wholly enchanting and original, bearing the beauties and failures of the body and all of 'what the sea asks us to return.'"
—Aimee Nezhukumatathil

Poets will want to read and reread, hovering above these pages in order to absorb just a little, and then a little more, of Cancio-Bello's skill.
-Lynn Domina