Jackknife: New and Selected Poems (Pitt Poetry Series) (Paperback)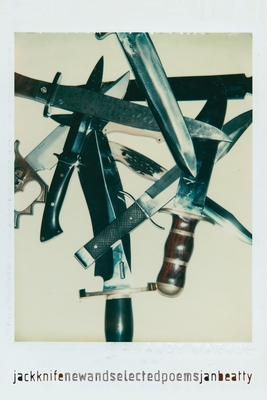 $22.00

Not In Store - Available to special order for pickup or ship. For even speediest shipping we suggest our Bookshop.org page!
Description
---
In Jackknife: New and Selected Poems, Beatty travels the turns and collisions of over twenty years of work. She moves from first-person narratives to poems that straddle the page in fragments, to lines that sprawl with long lines of train tracks. Always landing in meaning, we are inside the body—not in a confessional voice, not autobiography—but arriving through the expanded, exploded image of many stories and genders.
 
The new poems leap imagistically from the known world to the purely imagined, as in the voice in "Abortion with Gun Barrel": "I am the counselor,/there are cracks in the barrel of the gun/there is aiming/shots of sorrow—/ shots of light." Commitment to a rabid feminist voice continues, but arrival has a new ring to it, with beginnings rescripted: "I am a bastard./I walk around in this body of mine."
 
Beatty's fascination with the highway and the breakout West jackknifes at the crossroads of the brutal and the white plains of loss—the body torn down and resurrected in the twenty first century.
About the Author
---
Jan Beatty's fourth full-length collection, The Switching/Yard, was named one of "30 New Books That Will Help You Rediscover Poetry" by Library Journal. The Huffington Post named her as one of ten women writers for "required reading." Her other books include Red Sugar, Boneshaker, and Mad River, winner of the Agnes Lynch Starrett Poetry Prize. Beatty is host and producer of Prosody on NPR affiliate WESA-FM, featuring the work of national writers. She is director of creative writing at Carlow University, where she runs the Madwomen in the Attic writing workshops and teaches in the MFA program.
Praise For…
---
"Beatty's lyric comes from the edge of a knife that continues to carve honest beauty from an America we learn only from gifted hands. The arc of this poet's brave heart moving through her life brings back to us the song of who we are. This is a fabulous collection."
—Afaa M. Weaver

"A jackknife is a large pocketknife. The bend of cab and trailer. A V-shaped dive. The sharp turn of language into bastard diaries in 'Lake is a red pigment,' pure lineage from the furnace of the word. With volcano, rail car, humor and pain, Beatty is a throne of fire on blotter-acid imagery."
—Diane Glancy

"At the heart of Jan Beatty's body of work is desire for recognition from the birth father, the artist in prisons and homeless shelters, tales of hardcore sex. These threads tangle into an almost mythical quest for freedom and clarity. One of our most fearless poets, Beatty tends to the monsters inside her. And we are all the better for it."
—David Trinidad  

Past Praise for The Switching/Yard:
"[one of]  30 New Books That Will Help You Rediscover Poetry"
—The Library Journal
 

Past Praise for The Switching/Yard:
"Remember the scene in Mommy Dearest when Faye Dunaway stares down the stuffed shirts of the corporate boardroom? 'This ain't my first time at the rodeo.' Jan Beatty could have snapped that entire table in half with the raw energy of her words. In the words of R&B vocalist Carl Carlton, 'She's a bad mamajama.'" 
—D.A. Powell

Past Praise for Red Sugar:
"Having mastered the art of fury, Jan Beatty does not merely write a poem, she wrenches it into being."
—Wanda Coleman

Past Praise for Boneshaker:
"'Wild girl fire' is what Jan Beatty calls it, 'that white-hot tearing' that ignites into art or self-destruction."
—Sandra Cisneros

Past praise for Mad River:
"[Her] poems speak to us head-on, with courage and a contemporaneous eloquence."
—Yusef Komunyakaa