Internalized Oppression: The Psychology of Marginalized Groups (Paperback)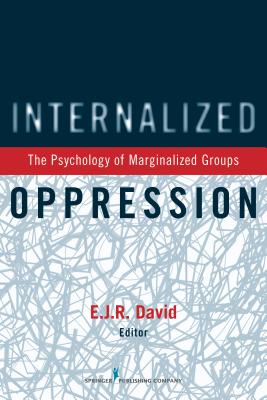 Description
---
It is a great honor√ to write the foreword to such an important book edited by E.J.R. David, filled with contributions from leading and emerging psychological scholars on internalized oppression. One of the best features of the book, in my opinion, is that the chapter authors√ are allowed to share their own personal experiences and that such experiences are regarded to be just as valid and legitimate as the 'theories' and 'empirical studies' that they review.
-Eduardo Duran, PhD
7th Direction Therapy, Assessment, and Consulting
Author of Healing the Soul Wound and Co-Author of Native American Postcolonial Psychology
The oppression of various groups has taken place throughout human history. People are stereotyped, discriminated against, and treated unjustly simply because of their social group membership. But what does it look like when the oppression that people face from the outside gets under their skin? Long overdue, this is the first book to highlight the universality of internalized oppression across marginalized groups in the United States from a mental health perspective. It focuses on the psychological manifestations and mental health implications of internalized oppression for a variety of groups. The book provides insight into the ways in which internalized oppression influences the thoughts, attitudes, feelings, and behaviors of the oppressed toward themselves, other members of their group, and members of the dominant group. It also considers promising clinical and community programs that are currently addressing internalized oppression among specific groups.
The book describes the implications and unique manifestations of internalized oppression among African Americans, Latinos, Asian Americans, Pacific Islanders, American Indians and Alaska natives, women, people with disabilities, and the lesbian, gay, bisexual, and transgender community. For each group, the text considers its demographic profile, history of oppression, contemporary oppression, common manifestations and mental and behavioral health implications, clinical and community programs, and future directions. Chapters are written by leading and emerging scholars, who share their personal experiences to provide a real-world point of view. Additionally, each chapter is coauthored by a member of a particular community group, who helps to bring academic concepts to life.
Key Features:
Addresses the universality of internalized oppression across marginalized groups in the U.S. and its corresponding mental health and psychological manifestations
Considers how specific groups exhibit internalized oppression in their own unique ways
Provides insight into how internalized oppression influences the thoughts, feelings, attitudes, and behaviors of the oppressed
Highlights promising clinical and community programs