In a Patch of Grass (Hardcover)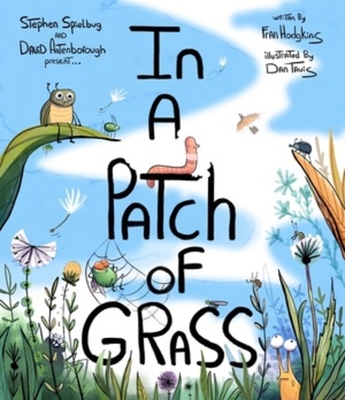 $18.95

On Our Shelves Now - Click to see location, time, and stock details
Description
---
 A funny, rollicking take on a natural-history picture book, designed to entertain kids and the adults who read to them.
David Antenborough narrates this picture-book send-up of a nature documentary, sounding just like the real-life David but with more gesticulations, since he has six limbs at his disposal. Director Stephen Spielbug tries to keep the cast of characters on task, but it's worse than herding cats: The orb-weaving spider would like to eat one or two other actors; the grasshopper is a diva; the worm is too busy munching dirt to emerge from the ground on cue; the robin has joined a union and declines to show up for the predation scene; and the slug is too embarrassed by his slime to perform. As David and Stephen near the wrap-up, filming is interrupted by a whuffling noise and then a foul-smelling hurricane, and Fido the dog sniffs his way through the grass and onto their set. The panicked actors flee at top speed (which is not very fast in the slug's case), but the intrepid Antenborough continues narrating, Spielbug keeps directing, and they bring the film to a dramatic conclusion. Despite the chaos—or maybe because of it—we learn some things about these animals, and backmatter nature facts give us more.
About the Author
---
Fran Hodgkins is the author of more than 20 books for young readers, including The Whale Scientists, a Junior Library Guild selection, and How People Learned to Fly. Her book The Secret Galaxy (Tilbury House, 2014) was a Junior Library Guild selection, a Bank Street Best Children's Book of the Year, and a California Reading Association Eureka Gold Award winner.

Dan Tavis has been doodling since his first math class in elementary school and was inspired to paint upon discovering Bill Watterson's Calvin and Hobbes comic strip. Watterson's work remains a major influence. Dan is the illustrator of Common Critters (2020), The Whale Fall Café(2021), and Fluffy McWhiskers and the Cuteness Explosion (2021) and indulges his passion to illustrate characters that emotionally connect with the viewer and tell stories through visual narrative. Dan creates illustrations with watercolor, ink, and digital media.
Praise For…
---
Director Steven Spielbug's attempt to film a nature documentary goes badly awry.Not even unflappable, six-limbed commentator David Antenborough can rescue the ground-level shoot as a fly nearly interrupts Spielbug's shot of the orb-weaver spider, the slug goes off script, the grasshopper huffily objects to being billed as "Nature's great show-off," the earthworm misses a cue, the robin calls in sick, and then, to top it all off, a looming canine nose (with dog attached) "wuffl[es]" into view—sending the entire invertebrate cast and crew into panicked flight. But if, among all the chaos, observations about not only webs, legs, diets, and relatives of the bugs, spiders, and other wildlife typically seen in low, grassy habitats ("When this spider is ready to make a new web, it will eat this one and reuse the silk proteins"), but dogs, too, get delivered (with further detail provided in the closing credits), who's to complain? And if Tavis equips his multispecies cartoon figures with bits of clothing and anthropomorphic features, the setting and its residents are still close enough to natural to be recognizable. (This book was reviewed digitally.)Slapstick science, anyone? It's a wrap! (Informational picture book. 6-8)
— Kirkus