Spirit Ascendancy: Book 3 of The Gateway Trilogy (Paperback)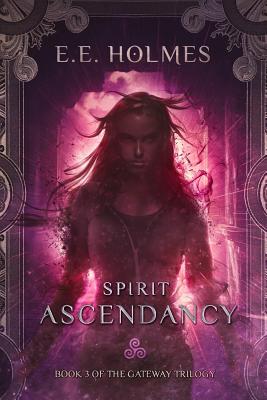 Available to order- email info@loyaltybookstores.com
Description
---
A power too terrible to control...
In the wake of their terrifying escape from Fairhaven Hall, sisters Jess and Hannah Ballard find themselves on the run, pursued by the two most powerful groups in the history of the spirit world. On one side, the Durupinen, determined to capture the girls and prevent their role in an ancient prophecy that promises to destroy them and unleash the spirit hordes on the earth. On the other side, the Necromancers, ancient enemies of the Durupinen, hellbent on bringing the same prophecy to fruition. When the girls are betrayed and one of them falls into the Necromancers' hands, both face decisions with cataclysmic consequences.
Will the lure of power prove too great to resist, or will the bond between the sisters survive this last, most crucial of tests?
Spirit Ascendancy is the much anticipated third and final installment of E.E. Holmes' award-winning Gateway Trilogy.
About the Author
---
E.E. Holmes grew up near Boston, Massachusetts, where she spent the majority of her childhood reading books. She read them almost constantly, and as a result, perfected the art of walking and reading at the same time, a skill she can still perform to this day with remarkably few instances of falling on her face. She also wrote many books and poems in blank books and on the backs of legal pads her father brought home from the office. They remain some of her finest work. She soon learned to love literature of the dramatic persuasion, and earned a B.A. in theater from the College of the Holy Cross. After graduation, she set out to prove that her degree was, in fact, not useless, and worked as a principal actor in a summer Shakespeare festival and as a theater teacher, directing over thirty productions and numerous workshops for youth and high school students. She spent seven years as the theater director at Wakefield High School where she also taught English literature and public speaking. It was in her classroom that she discovered the horrible truth: a disturbingly large percentage of high school students hate to read. This revelation devastated and bewildered her. She decided she wanted to do something about it, and thus she started work on her first young adult novel, Spirit Legacy: Book 1 of the Gateway Trilogy, which has gone on to win awards from Chanticleer Book Reviews and Media and The Independent Publisher Book Awards. She is also the author of Spirit Prophecy, Book 2 of the Gateway Trilogy, and three one act plays, one of which premiered at the Edinburgh Fringe Festival in 2009 to rave reviews. E.E. Holmes lives in central Massachusetts with her husband, two children, and small, but surprisingly loud dog. When not writing, she enjoys watching unhealthy amounts of British television, procrastinating, and rediscovering her favorite books from her childhood all over again with her kids.