Gold, Guts and Glory (Glory: A Civil War #3) (Paperback)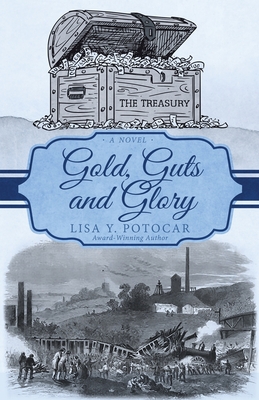 $13.99

Not In Store - Available to Special Order
Other Books in Series
This is book number 3 in the Glory: A Civil War series.
Description
---
Love and Adventure Live On. . .
After defying death during her wartime activities, Jana Brady leaps to accept President Andrew Johnson's bid for her and her soldier-sweetheart Keeley Cassidy to track down a two-million-dollar army payroll, stolen from the caboose of a prisoner train in the chaotic aftermath of its collision with a coal train. Her consent to the mission, without consulting Keeley, complicates their relationship. She is crushed when Keeley suggests they delay their wedding. Knowing Keeley fears Jana will choose adventure every time over a quieter life with him, Jana worries this venture will expose incompatibilities too irreconcilable to sustain a future together. This mission challenges their bond on every level, from a life-changing decision to adopt a runaway orphan to a frightening encounter with a bear. Will this adventure be the truest test of their love?
Jana and Keeley discover that the train wreck reveals a more sinister plot behind the stolen payroll than mere petty thievery. They race against two Rebel train-wreck survivors, a bankrupt politician and his goons, and members of a powerful organization who aim to amass wealth to incite a second rebellion and perpetuate slavery. With help from Jana and Keeley's coonhound, Tracker, and cavalry comrades, Leanne and Charlie Watson, they sniff out the trail of the federal treasury and confront the thieves in a final showdown. Can Jana, Keeley, and friends outwit their foes to recoup the money? In this third book of Glory: A Civil War Series, Lisa Potocar continues to masterfully interweave adventure, romance, and suspense with a sweeping portrayal of post-Civil War times and women's expanding roles within it.