Necropolis Pd (Paperback)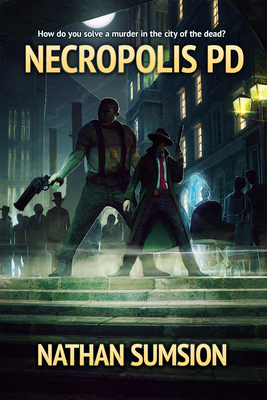 Available to order- email info@loyaltybookstores.com
Description
---
How do you solve a murder in the city of the dead?


Jacob Green was just an average college student. But three months ago, he ran through the wrong door and found himself trapped in the city of Meridian - a literal necropolis, concealed from the modern world, made up of forgotten places and populated entirely by the dead.
As the only living, breathing resident, Jake has struggled to scrape out an existence while waiting for the Necropolis Police Department to decide his fate, and it's not looking good. But when an unusual string of crimes hits the city, Jake's overseer and tormentor, NPD Detective Marsh offers him a deal: Jake's life in exchange for helping them solve the worst series of crimes in the necropolis' history.
Someone, or some thing is killing the dead, and if Jake can't figure out who's responsible, he could be next.
Necropolis PD is a hidden world fantasy that combines mystery, horror, magic, and more than a little humor. This book is perfect for the living and recently-departed alike.
About the Author
---
Nathan Sumsion grew up in Lincoln, Nebraska on a steady diet of role-playing games, monster movies, comic books and computer games. His dad kept boxes of old science fiction and fantasy magazines out in storage, and as a young child Nathan would dig through them for hours, fascinated with the worlds depicted on the covers. He couldn't wait to start exploring them. He started reading at a young age and hasn't ever stopped. As he got older, most weekends would find Nathan playing or running any number of role-playing games with friends, where he developed an appreciation for game mechanics and systems. He loved to create interesting worlds, characters and stories. After earning his degree in Graphic Design at Utah State University and turned his hobby of game design into a career. Nathan has worked as a video game designer since the late 90s for companies such as Disney, Crytek, Vicious Cycle and KingsIsle Entertainment. For the past several years he has been the lead game designer on a popular fantasy MMO. When he isn't making games, he is playing them. He is always eager to discuss game mechanics - at length - to anyone who is interested. He has lived in various places including North Carolina, Utah, France and Germany. Nathan's hobbies include dabbling in sketching and art on the computer, creating new game ideas and playing role-playing games. More than anything, he enjoys spending time with his family. He currently lives in Round Rock, Texas with his wife and three children. Necropolis PD is his first novel.