Rethinking Islam and Space in Europe: The Politics of Race, Time and Secularism (Ethnic and Racial Studies) (Hardcover)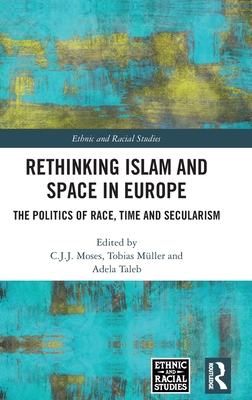 Available to order- email info@loyaltybookstores.com
Description
---
The role of Islam in public spaces is one of the most prevalent political questions in Europe. Contestations around the construction of mosques, the ban of Islamic veils and populist rhetoric about "problematic" neighbourhoods indicate Europe's struggles with the place of its second largest religion. This book advocates for an analytical turn in the study of Islam in Europe using space as a central conceptual lens. While spatial approaches are gaining traction in the study of religion, migration, ethnicity, race, and politics, the chapters in this book argue that the critical potential of a spatialised analysis in the field of Islam in Europe remains largely unexplored.
This volume presents a collection of nine empirical studies that offer insights into how scholars might exploit the category of space when analysing both current political issues and broader conceptual questions in the social sciences. And more specifically, how does a spatial perspective on Islam contribute to a deeper understanding of the formations of the state, ethnicity, race, secularism, gender, and colonial structures?
Rethinking Islam and Space in Europe is a significant new contribution to racial and ethnic studies in Europe, and will be a great resource for academics, researchers, and advanced students of Politics, Sociology, Social and Political Geography, Anthropology and Religious Studies.
The chapters in this book were originally published as a 2021 special issue of Ethnic and Racial Studies.