In the Country We Love: My Family Divided (Paperback)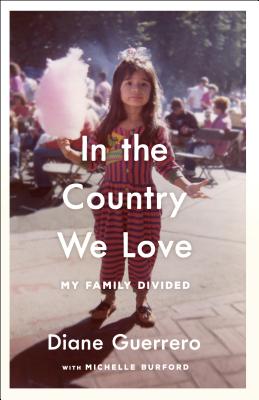 Description
---
The star of Orange is the New Black and Jane the Virgin presents her personal story of the real plight of undocumented immigrants in this country—updated for 2018.
Diane Guerrero was just fourteen years old on the day her parents and brother were arrested and deported while she was at school. Born in the U.S., Guerrero was able to remain in the country and continue her education, depending on the kindness of family friends who took her in and helped her build a life and a successful acting career for herself, without the support system of her family.
In the Country We Love is a moving, heartbreaking story of one woman's extraordinary resilience in the face of the nightmarish struggles of undocumented residents in this country. There are over 11 million undocumented immigrants living in the US, many of whom have citizen children, whose lives here are just as precarious, and whose stories haven't been told. Written with Michelle Burford, this memoir is a tale of personal triumph that also casts a much-needed light on the fears that haunt the daily existence of families like the author's and on a system that fails them over and over.
About the Author
---
Diane Guerrero is an actress on the hit shows Orange is the New Black and Jane the Virgin. She has written about her family in the Los Angeles Times and has appeared on CNN to discuss immigration issues. She also volunteers with the nonprofit Immigrant Legal Resource Center. She lives in New York City.
Praise For…
---
"Guerrero, 14 at the time, was left on her own with no government oversight whatsoever, a harrowing situation that she recounts with honesty, pathos, and bravery...Guerrero transforms a truly terrible situation into something meaningful, using her story and her role as an Ambassador for Citizenship and Naturalization by the White House to try to help other immigrant families left in this terrible position."—Publishers Weekly
"Orange Is the New Black actress Guerrero delivers an affecting tale of a childhood lived in the margins. . . . lovingly detailed in colloquial and well-paced prose . . . The author's candor in chronicling the lowest moments of her life reads like an urgent confessional. . . The author's greatest strength lies in her ability to advocate for undocumented immigrants and others affected by immigration status: 'I've written the book that I wish I could have read when I was that girl.' A moving, humanizing portrait of the collateral damage caused by America's immigration policy." —Kirkus Reviews
"Guerrero relates her struggle to hold her life together, get through high school and college, and find her feet in the world--challenges that will resonate with many readers...[She] writes with humor and heartbreaking honesty. Offering readers the story she needed to hear as a child, Guerrero shines a light on this country's flawed immigration system, eloquently calling for reform without diminishing her appreciation for the opportunities US citizenship has afforded her. A timely and enlightening read."—Booklist
"In the Country We Love is the poignant, candid, and often shocking account of the challenges Guerrero faced as a citizen child of undocumented parents"—Kirkus Reviews [special cover feature]
"I think putting your life down on paper as honest and raw as Diane Guerrero has done is brave…, Guerrero bares her life showing her faults, her heart, her humor, that the saying kids are resilient is not so, and most importantly her fight to thrive and succeed. I could not recommend this book enough, especially if you liked The Book of Unknown Americans." —Book Riot [best books of April 2016]
"In the Country We Love is a necessary story for our times...It is a heartrending memoir that humanizes the story of America's immigration policies and helps us all find a way to understand the challenging questions and ineffective strategies of current policies and practices."—San Antonio News-Express
"Advocating on behalf of the undocumented immigrants in our country, Guerrero's memoir is a well-written tell-all of a woman who traveled a difficult path to stardom."—ReadItForward.com