The Dead Cat Tail Assassins (Hardcover)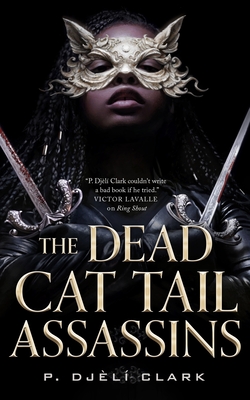 $20.99

Coming Soon - Available for Pre-Order Now
Description
---
The Dead Cat Tail Assassins are not cats.

Nor do they have tails.

But they are most assuredly dead.

Nebula and Alex Award winner P. Djèlí Clark introduces a brand-new world and a fantastical city full of gods and assassins.

Eveen the Eviscerator is skilled, discreet, professional, and here for your most pressing needs in the ancient city of Tal Abisi. Her guild is strong, her blades are sharp, and her rules are simple. Those sworn to the Matron of Assassins—resurrected, deadly, wiped of their memories—have only three unbreakable vows.

First, the contract must be just. That's above Eveen's pay grade.

Second, even the most powerful assassin may only kill the contracted. Eveen's a professional. She's never missed her mark.

The third and the simplest: once you accept a job, you must carry it out. And if you stray? A final death would be a mercy. When the Festival of the Clockwork King turns the city upside down, Eveen's newest mission brings her face-to-face with a past she isn't supposed to remember and a vow she can't forget.
About the Author
---
Born in New York and raised mostly in Houston, P. DJÈLÍ CLARK spent the formative years of his life in the homeland of his parents, Trinidad and Tobago. He is the author of the novel A Master of Djinn and the novellas Ring Shout, The Black God's Drums, and The Haunting of Tram Car 015. He has won the Nebula, Locus, and Alex Awards and been nominated for the Hugo, World Fantasy, and Sturgeon Awards. His stories have appeared in online venues such as Tor.com, Daily Science Fiction, Heroic Fantasy Quarterly, Apex, Lightspeed, Beneath Ceaseless Skies, and in print anthologies, including Griots, Hidden Youth, and Clockwork Cairo. He is also a founding member of FIYAH Magazine of Black Speculative Fiction and an infrequent reviewer at Strange Horizons.
Praise For…
---
Praise for P. Djèlí Clark

"A breathtaking tale of cities, spirits, friendship, and society."—Daniel José Older on A Master of Djinn

"A thrilling and provocative inferno of a story."—Tochi Onyebuchi on Ring Shout

"P. Djèlí Clark couldn't write a bad book if he tried."—Victor LaValle on Ring Shout

"Slyly told and laced with dark humor, this haunting tale pulled me into a richly realized world I didn't want to leave."—Rivers Solomon on Ring Shout

"A clever, wickedly fun steampunk mystery with an excellent balance of humor and heart." - S. A. Chakraborty on A Master of Djinn

"A fantastical, brutal and thrilling triumph of the imagination."—The New York Times, Editor's Choice, on Ring Shout

"What a wonderful world P. Djélì Clark has created."—NPR on the Dead Djinn Universe

"This is a story of Black female power, drawn from both the old and new worlds, a tale that honors the Black American experience in all its complexity, and yet also delivers in its Lovecraftian delight." —Library Journal, starred review, on Ring Shout

"Brutal and hopeful, farcical and factual."—Justina Ireland on Ring Shout

"Explodes into vivid color with a voice that's both joyous and harrowing."—Bethany C. Morrow on Ring Shout

"With its richly imagined world and characters and its high-stakes and thrilling plot, this novel would make such a fantastic show in the vein of The Nevers and Carnival Row, but better."—Buzzfeed on A Master of Djinn

"Lush and magical."—Kwame Mbalia on Abeni's Song

"Cinematic action, a radical reimagining of real history, and magic on every page."—Alix E. Harrow on A Master of Djinn

"Simply unlike anything else in the field. An astonishing adventure that managed to thrill, scare, and delight, all while telling a story that is beautifully complicated and moving."—Mark Oshiro, award winning author of Anger is a Gift on Abeni's Song