Of Women and Salt: A Novel (Hardcover)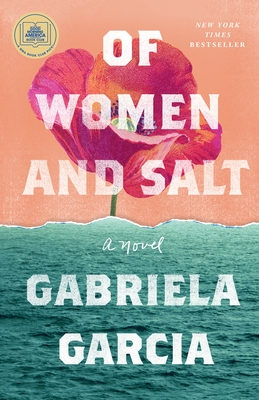 $26.99

Not In Store - Available to special order for pickup or ship. For even speediest shipping we suggest our Bookshop.org page!
April 2021 Indie Next List
---
"Gabriela Garcia has delivered a gripping novel that moves between modern-day Miami and revolutionary and post-revolution Cuba to tell the stories of four generations of women whose past traumas continue to play out in current times. It's a story of strength, immigration, and the unbreakable bonds between mothers and daughters. Of Women and Salt took my breath away on multiple occasions and continues to take hold of my thoughts."
— Pat Rudebusch, Orinda Books, Orinda, CA
Winter 2022 Reading Group Indie Next List
---
"Interwoven stories of women and their pain, love, sacrifice, betrayal, roots, and identity will challenge you and stay with you long after you finish. Perfect for book clubs: you'll want to discuss it as soon as you put it down."
— Emily Autenrieth, A Seat at the Table Books, Elk Grove, CA
Description
---
AN INSTANT NEW YORK TIMES BESTSELLER
THE WASHINGTON POST NOTABLE BOOK OF 2021
A GOOD MORNING AMERICA BOOK CLUB PICK

WINNER of the Isabel Allende Most Inspirational Fiction Award - International Latino Book Awards • WINNER of
Best Literary Fiction - She Reads Best of 2021 Awards • FINALIST for the 2022 Southern Book Prize • LONGLISTED for Crook's Corner Book Prize • NOMINEE for 2021 Goodreads Choice Award in Debut Novel and Historical Fiction

A sweeping, masterful debut about a daughter's fateful choice, a mother motivated by her own past, and a family legacy that begins in Cuba before either of them were born

In present-day Miami, Jeanette is battling addiction. Daughter of Carmen, a Cuban immigrant, she is determined to learn more about her family history from her reticent mother and makes the snap decision to take in the daughter of a neighbor detained by ICE. Carmen, still wrestling with the trauma of displacement, must process her difficult relationship with her own mother while trying to raise a wayward Jeanette. Steadfast in her quest for understanding, Jeanette travels to Cuba to see her grandmother and reckon with secrets from the past destined to erupt.

From 19th-century cigar factories to present-day detention centers, from Cuba to Mexico, Gabriela Garcia's Of Women and Salt is a kaleidoscopic portrait of betrayals—personal and political, self-inflicted and those done by others—that have shaped the lives of these extraordinary women. A haunting meditation on the choices of mothers, the legacy of the memories they carry, and the tenacity of women who choose to tell their stories despite those who wish to silence them, this is more than a diaspora story; it is a story of America's most tangled, honest, human roots.
About the Author
---
Gabriela Garcia is the recipient of a Rona Jaffe Foundation Writer's Award and a Steinbeck Fellowship from San Jose State University. Her fiction and poetry have appeared in Best American Poetry, Tin House, Zyzzyva, Iowa Review, and elsewhere. She received an MFA in fiction from Purdue and lives in the Bay Area. Of Women and Salt is her first novel.
Praise For…
---
Named a Best Book of the Year:
Cosmopolitan • The Boston Globe • Real Simple • Marie Claire • Reader's Digest • Good Housekeeping • Woman's Day • She Reads • Austin Public Library • Harper's Bazaar

Selected as Indie Next Great Reads for April
Selected as June Book of the Month for Roxane Gay's Audacious Book Club
A Most Anticipated Book (Bustle, Buzzfeed, E! News, Entertainment Weekly, Good Morning America, Goodreads, Harper's Bazaar, New York Times, O Magazine, Lit Hub, Refinery29, Vogue India, Reader's Digest, PopSugar, TIME Magazine, and more!)

Praise for Of Women and Salt

"Gabriela Garcia captures the lives of Cuban women in a world to which they refuse to surrender and she does so with precision and generosity and beauty." - Roxane Gay, bestselling author of Hunger and Bad Feminist

"Of Women and Salt is a fierce and powerful debut. Garcia wields narrative power, cultivating true and profound work on migration, legacy, and survival." - Terese Marie Mailhot, bestselling author of Heart Berries

"Garcia's vivid details, visceral prose and strong willful women negotiating how to survive in this world are easy to fall for." - Angie Cruz, author of Dominicana

"In this debut novel, the daughter of a Cuban immigrant is haunted by the desire to learn more about her history, setting in motion a multigenerational family story that leaps across the Americas." - The New York Times

"This riveting account will please readers of sweeping multigenerational stories." - Publishers Weekly

"Garcia's debut novel is a...stunningly accomplished first novel is both epic and intimate." - O Magazine

"At the heart of Of Women and Salt are the sacrifices made by mothers so their daughters can have different lives—perhaps better ones. But daughters may make choices based on their own wishes and needs, and this possibility is ever poised to pierce a mother's heart. In this way, the novel is quietly heartbreaking. As Garcia writes, 'Even the best mothers in the world can't always save their daughters.'" - BookPage, starred review

"From the perspectives of several generations of Cuban women, this remarkable debut shines a brilliant light on the broken immigration system and legacy of trauma for the people who endure it." - Ms. Magazine

"When Jeanette agrees to take in the daughter of a neighbor detained by ICE, she is suddenly forced to reckon with her complicated ties to her mother—herself an immigrant—and her grandmother who still lives in Cuba. Following three generations of Cuban women from Mexico to Miami, Gabriela Garcia's debut novel promises to be a sweeping tour de force about addiction, displacement, and the legacy of trauma." - Harper's Bazaar

"I love a sweeping, ambitious debut, and this novel about a woman's family, with examinations of contemporary immigration and trauma and motherhood, sounds just incredible." – Emma Straub, Books Are Magic

"Phenomenal . . . readers won't want to put [it] down." - BUST

"This gripping, accomplished debut follows generations of Cuban women, from María Isabel, rolling cigars as she listens to the words of Victor Hugo and men die around her, to Jeanette, struggling with addiction in Miami, and trying to find a place in the world that feels real. An interlocking portrait of women striving, loving, losing, getting lost and getting found." - Lit Hub

"The debut that's had publishing buzzing all winter long meditates on the way immigration shapes the lives of Latinx women." - Entertainment Weekly

"A sweeping, masterful debut about a daughter's fateful choice, a mother motivated by her own past, and a family legacy that begins in Cuba before either of them were born." - The Nerd Daily

"Gabriela Garcia, a prolific poet and fiction writer, delivers her highly anticipated debut novel, centered on three generations of Cuban and Cuban American women. Jeanette, determined to understand her family history but unable to get her mother (who's still processing the emotional effects of her displacement from Cuba) to tell her about it, travels to Cuba to visit her grandmother, but this decision brings uncomfortable secrets and betrayals to light." - Arianna Rebolini for Buzzfeed News

"Another book I've anticipated for a while, Of Women and Salt is a debut novel about the daughter of a Cuban immigrant, Jeanette, who takes in the daughter of a neighbor detained by ICE. Garcia has worked as an organizer in migrant rights movements, and Terese Marie Mailhot says Garcia's novel is a "true and profound work on migration, legacy, and survival." - R.O. Kwon for Electric Literature

"I just wanted to let you know that I finished Of Women and Salt last night, and it was so good. Really impressive--I loved the structure, the story, the writing, the characters. All of it. It was one of those books that I couldn't wait to get back to every evening." - Tattered Cover

"Stephanie Skees, a bookseller at The Novel Neighbor, selects Gabriela Garcia's début novel, Of Women and Salt, coming out in April. Skees describes the book as exploring 'one family's matriarchal choices and the legacy they create. It's a sweeping tale ranging from the 19th-century cigar factories to present-day detention centers that will leave the reader haunted.'" - St. Louis Magazine

"Starting in Miami, Jeanette takes in a neighbor's daughter after U.S. Immigration and Customs Enforcement detains her parents. As she tries to repair her relationship with her own mother and learn more about her family's history, she decides to travel to Cuba to seek answers from her grandmother. Following five generations and taking place in several countries, Of Women and Salt examines the relationships between mothers and daughters." - Refinery29

"Gabriela Garcia's debut novel has been raking hype ever since it was announced, and for all good reasons. Through five generations of women, Garcia takes us from 19th century cigar factories in Cuba to Mexico to present day ICE detention centres in America in this ambitious debut." - Vogue India

"[A] widely buzzed first novel. Presented in 12 chapters . . . Garcia channels her Miami-based Cuban-Mexican American heritage into five generations of a Cuban American matriarchy." - Booklist