The Genesis of Misery (Hardcover)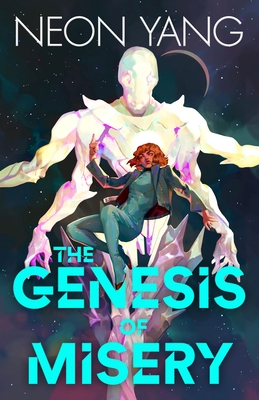 $27.99

Coming Soon - Available for Pre-Order Now
Description
---
An immersive, electrifying space-fantasy, Neon Yang's debut novel The Genesis of Misery is full of high-tech space battles and political machinations, starring a queer and diverse array of pilots, princesses, and prophetic heirs.

This is the story Misery Nomaki (she/they), a nobody from a nowhere mining planet. Misery has abilities they shouldn't though: they can bend the will of stone, a dangerous magic that only "saints" are said to have. These abilities lead Misery to the center of the Empire, where rumors spread that Misery is the next Messiah, and where those in power seek to use Misery to win a terrible war.

Amid a nest of vipers, Misery grows close to a rebellious royal, Lady Alodia Lightning, and decides to embrace the legacy the prophecies speak of. True or false, for better or worse, Misery Nomaki will be the Ninth Messiah.
About the Author
---
Neon Yang (they/them) is the author of the Tensorate series of novellas from Tor.Com Publishing (The Red Threads of Fortune, The Black Tides of Heaven, The Descent of Monsters and The Ascent to Godhood). Their work has been shortlisted for the Hugo, Nebula, World Fantasy, Lambda Literary and Locus awards, while the Tensorate novellas were a Tiptree honoree in 2018. They have over two dozen works of short fiction published in venues including Tor.com, Uncanny Magazine, Lightspeed, Clarkesworld, and Strange Horizons.

Neon attended the 2013 class of Clarion West, and received their MA in Creative Writing from the University of East Anglia in 2016. In previous incarnations, they have been a molecular biologist, a writer for animation, comics and games, a science communicator, and a journalist for one of Singapore's national papers.

Neon is currently based out of Singapore. They are queer and non-binary.
Praise For…
---
"This vibrant tour de force presents a simultaneous embrace and inversion of Chosen One narratives. Yang's prose is lush and gripping throughout, and [the] universe is complex and gorgeously rendered... This is a triumph."—Publishers Weekly, starred review

"Come for the giant robot space battles, stay for the fascinating worldbuilding and the heartbreaking insight into the politics of fanaticism and emotional manipulation."—Martha Wells, New York Times bestselling author of the Murderbot Diaries

"Neon Yang conjures a glittering, dangerous world where politics and religion clash in gemstone castles that float among the stars. Misery will tantalize, frustrate, and seduce you."—Annalee Newitz, author of Autonomous

"Transmute the saintly Joan of Arc into a foul-mouthed and combative protagonist, decant them into a weird and wild far future, and strap in for a wrecking ball of a ride."—Kate Elliott, author of Unconquerable Sun