Archangels of Funk (Hardcover)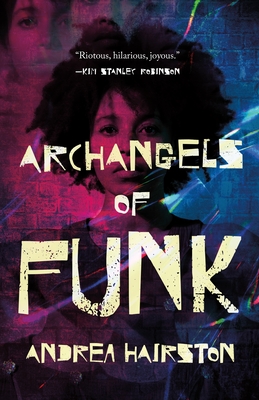 $29.99

Coming Soon - Available for Pre-Order Now
Description
---
Run from your past. Hide from your future. Protect your present.

The Water Wars have scrambled the world. Flood refugees are on the run. Disrupters and the nostalgia militia roam the roads wreaking havoc. Invisible Darknet Lords troll the internet solidifying their power, while Cinnamon, her three Circus-Bots, and two dogs work with a community of farmers, Motor Fairies, and Wheel-Wizards to provide housing, health care and education for flood refugees.

As Cinnamon confronts threats from the Darknet Lords and the nostalgia militia, she must determine how best to honor her elders and her history while building a future for herself and her charges.

It's not going to be easy.
About the Author
---
Andrea Hairston is a novelist, essayist, playwright, and the Artistic Director of Chrysalis Theatre. She is the author of Redwood and Wildfire, winner of the 2011 Otherwise Award and the Carl Brandon Kindred Award, and Mindscape, shortlisted for the Philip K Dick and Otherwise Awards, and winner of the Carl Brandon Parallax Award. In her spare time, she is the Louise Wolff Kahn 1931 Professor of Theatre and Afro-American Studies at Smith College. She has received the International Association for the Fantastic in the Arts Distinguished Scholarship Award for outstanding contributions to the criticism of the fantastic. She bikes at night year-round, meeting bears, and the occasional shooting star.
Praise For…
---
"[A] beautifully multifaceted story...with deep, layered, powerful characters. Highly recommended." —The New York Times

"This is one of those books you start and realize you've been waiting to read for a long, long time without knowing. Will Do Magic for Small Change is a deep breath, a good friend, a heartbreaking, game-changing, life-affirming, truth-telling powerhouse. I love this book." —Daniel José Older

"Andrea Hairston's vision is breathtaking. She weaves sweeping historical narratives and mythology with the wisdom of the elders, and shines light on the pressing issues of the day. In her hands, language is a blessing, and the familiar and the fantastic become magic, one and the same." —Sheree Renée Thomas

"The entire work is filled with magic, celebrating West Africans, Native Americans, art, and love that transcends simple binary genders. Hairston's novel is a completely original and stunning work." —Publishers Weekly

"This book glitters with West African magic, unconventional love, and creatures you won't forget." —BuzzFeed

"This book's lyrical language and unsparing vision make it a mind-expanding must-read." —Kirkus Reviews, starred review on Master of Poisons

"This is an urgent, gorgeous work." —Publishers Weekly, starred review on Master of Poisons

Master of Poisons voted a Kirkus Reviews Best Book of 2020