Just a Pinch of Magic (Hardcover)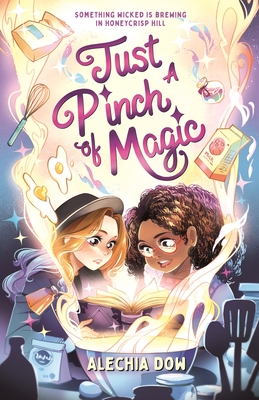 $17.99

Not In Store - Available to special order for pickup or ship. For even speediest shipping we suggest our Bookshop.org page!
Description
---
Just a Pinch of Magic, Alechia Dow's middle-grade debut, is as warm and sweet as a cinnamon bun, bursting with magic and sure to please the pickiest readers.

Wini's family of enchanters runs a little bakery, but with the prices of magical ingredients skyrocketing, they're going under. Desperate to save her family's business, Wini takes a risk by casting a (sort of illegal) spell that would allow them to gather their own supply of their most needed magical ingredient: Love. But the spell doesn't work. And Wini soon discovers that it didn't just not work, it backfired. Badly. Now the whole town is in danger, and the Enchantment Agency is sniffing around for whoever cast the wayward spell.

It's just been Kal and her dad for as long as she can remember. They've weathered everything together, including Kal's mental health struggles. But just as they're about to move to a new town for a fresh start, Kal's grandfather—who mysteriously vanished years ago—has suddenly reentered their lives with a desire to make amends. He joins them in opening their bookstore in the new town, but Kal can't help but wonder if he has anything to do with the whispers around her new home about wicked magic. And it's not just the whispers of the magical books in their shop.

When Wini and Kal cross paths—both hoping for the chance to finally make a friend without worrying about their family histories following them—the girls bond over being fellow outcasts. Together they search for the solution to fixing the magic gone awry in their beloved town—and just maybe get their dads to go out on a date.

Includes five recipes!

Praise for Just a Pinch of Magic:

"Just a Pinch of Magic provides more than a pinch of fun. This delightful middle-grade debut is full of friendship, adventure, magic—and recipes!" —Janae Marks, New York Times-bestselling author of On Air with Zoe Washington
About the Author
---
Alechia Dow is a former pastry chef and librarian. She is the author of YA novels The Sound of Stars and The Kindred, and Just a Pinch of Magic is her middle-grade debut. When not writing, you can find her having epic dance parties with her daughter, baking, reading, or taking teeny adventures.
Praise For…
---
Praise for Just a Pinch of Magic:

"Just a Pinch of Magic provides more than a pinch of fun. This delightful middle-grade debut is full of friendship, adventure, magic—and recipes!" —Janae Marks, New York Times-bestselling author of On Air with Zoe Washington

"Dow delivers a magical story about family, friendship, and love that is both beguiling and surprising. An unforgettably rendered magical world paired with delicious descriptions of impeccable baked goods will leave readers wanting more." —Publishers Weekly, starred review

"Brimming with magic—and enticing recipes for readers to try. ... Superb worldbuilding and the authentic dialogue between the quirky, beguiling characters will draw readers in, while the heart-pounding tension and strong pacing will lead them to the satisfying conclusion. ... An enchanting tale of love." —Kirkus Reviews, starred review

"Through an otherworldly setting, Dow explores themes of discrimination and judgment. Like a fine confection, the story includes enough brininess to offset the sugar, creating a satisfyingly piquant dish to appeal to both baking and magic enthusiasts." —School Library Journal

"A sweet and satisfying modern fantasy novel ... Dow gives us the action and thrill of classic fantasy tales, with magical objects, haunted woods, and evil ghosts, but also looks thoughtfully at each girl's struggle to find her place, weaving in a powerful but not pedantic theme about the power of love and family. ... A tasty treat." —Mombian.com

Praise for The Sound of Stars:

BookRiot Most Anticipated Queer Read of 2020

"This book has everything! Aliens set on conquering earth! A determined heroine with a hidden stash of books! And the power of music and stories to give those with every reason to hate the power to love. Who could want anything more?" —Joelle Charbonneau, New York Times-bestselling author of The Testing and Verify

"Dow is an incredible new voice. The sensory details spill off the pages and transport me to new and unfamiliar places ... A true pleasure to read." —Saundra Mitchell, author of The Prom novelization and editor of All Out and Out Now

"A stunning exploration of the comforts that make us human and the horrors that challenge our humanity." —K. Ancrum, author of The Wicker King and Darling

"This debut has it all: music, books, aliens, adventure, resistance, queerness, and a bold heroine tying it all together." —Ms. Magazine

"A marvellous genre-bending debut." —The Nerd Daily

"Perfect for teens and fans of Warcross by Marie Lu and The Last 8 by Laura Pohl." —Tor.com

"[A]s with the best science fiction, it has the potential to be timeless." —Locus

"Dow paints a moving picture of two young people's defiance and the power of song and story to combat despair." —Publishers Weekly

"There is much to enjoy in this story featuring a complex Black teen: Ellie is bright, resourceful, and coping with issues with body image and anxiety. ... A promising debut that begs for a sequel." —Kirkus Reviews

"A hopeful testament to resistance that weaves in commentary about climate change, racism and politics, and includes LGBTQIA and mental and physical health representation." —Shelf Awareness