Some Desperate Glory (Hardcover)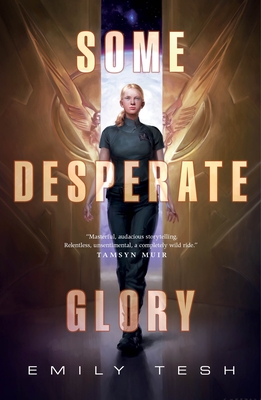 $28.99

Not In Store - Available to special order for pickup or ship. For even speediest shipping we suggest our Bookshop.org page!
Staff Reviews
---
To paraphrase John Mulaney, "I would never say that Kyr is a bitch and I don't like her. Kyr is a bitch and I like her so much." This queer space opera with multiple timelines is perfect for fans of The Locked Tomb series (yes, ninety percent of the reason I picked this up is because Tamsyn Muir blurbed it, and as always, Tamsyn was right). A mind-bending, stay-up-all-night reading kind of book.
 
— Amy
April 2023 Indie Next List
---
"Some Desperate Glory was palms-sweatingly incredible! I desperately sprinted through its pages to get to the end, then cracked it open again to read more slowly. THIS is the sci-fi book I've been waiting for. Readers won't be disappointed!"
— Annie Carl, The Neverending Bookshop, Edmonds, WA
Description
---
Instant National Bestseller and International Bestseller!

A thrillingly told queer space opera about the wreckage of war, the family you find, and who you must become when every choice is stripped from you, Some Desperate Glory is Astounding Award Winner Emily Tesh's explosive debut novel.

"Masterful, audacious storytelling. Relentless, unsentimental, a completely wild ride."—Tamsyn Muir

"This is the sort of debut novel every novelist hopes to write."—John Scalzi

"Deserves a space on shelves alongside Ursula K. Le Guin and Octavia Butler."—Publishers Weekly (starred review)

Sunday Times Bestseller | An Indie Next Pick | A LibraryReads Pick | With three starred reviews!

A Best Of Pick for The Guardian | Publishers Weekly | Amazon | Audible | Gizmodo | Book Riot | LitHub | Financial Times

While we live, the enemy shall fear us.

Since she was born, Kyr has trained for the day she can avenge the murder of planet Earth. Raised in the bowels of Gaea Station alongside the last scraps of humanity, she readies herself to face the Wisdom, the powerful, reality-shaping weapon that gave the majoda their victory over humanity.

They are what's left. They are what must survive. Kyr is one of the best warriors of her generation, the sword of a dead planet. When Command assigns her brother to certain death and relegates her to Nursery to bear sons until she dies trying, she knows she must take humanity's revenge into her own hands.

Alongside her brother's brilliant but seditious friend and a lonely, captive alien, Kyr escapes from everything she's known into a universe far more complicated than she was taught and far more wondrous than she could have imagined.
About the Author
---
EMILY TESH, winner of the Astounding Award and a Crawford Award finalist, is the author of the World Fantasy Award-winning Greenhollow Duology, which begins with the novella Silver in the Wood and concludes with Drowned Country. Some Desperate Glory is her first novel.
Praise For…
---
Instant National Bestseller and International Bestseller

Sunday Times Bestseller | An Indie Next Pick | A LibraryReads Pick | With three starred reviews!

A Best Of Pick for The Guardian | GoodReads | Publishers Weekly | Amazon | Audible | Gizmodo | Book Riot | LitHub | Financial Times

"Some Desperate Glory is honest, unflinchingly so. This book will hurt you and you will say thank you. It has everything you'd want in a queer space opera—wit and imagination and adventure, all within a brilliantly constructed world with an 'unlikable' and wholly irresistible lead. Reading this feels like bearing witness to something revolutionary... It will change you for the better."—Olivie Blake, New York Times bestselling author of The Atlas Six

"This is the sort of debut novel every novelist hopes to write. Spectacular from page one."—John Scalzi, New York Times bestselling author of The Kaiju Preservation Society

"Masterful, audacious storytelling. Relentless, unsentimental, a completely wild ride. I had a time. Talk about Mass Effect beating up Brave New World in a dark alley."—Tamsyn Muir, New York Times bestselling author of The Locked Tomb series

"Tesh crams in enough wild inventiveness for an entire trilogy, wrapped around an emotional core that's powerful and urgent and unmistakably real."— M. R. Carey, author of The Girl with All the Gifts

"Kyr is a revelatory hero—never have I so fervently wished the worst for someone, only to end up cheering for them... Fierce and heartbreakingly humane, this book is for everyone who loved Ender's Game, but Ender's Game didn't love them back."—Shelley Parker-Chan, Sunday Times bestselling author of She Who Became the Sun

"Raw and action-packed. . . . This riveting adventure deserves a space on shelves alongside genre titans like Ursula K. Le Guin and Octavia Butler."—Publishers Weekly, starred review

"A monumental journey. . . . An intriguing space opera and study of radicalization, indoctrination, and what happens when one breaks free in the most absolute way."–Library Journal, starred review

"Bound to make waves as one of the best sf novels of 2023. Fans of She-Ra and the Princesses of Power will fall hard for this story . . . . [It's an] expansive story with an action-packed pace full of exciting battles and gut-wrenching twists."—Booklist, starred review

"Tesh writes compellingly...[blending] thrilling action with a mind-bending course in cosmic metaphysics, which keep shifting your sense of what this book is about. If you're looking for a page-turner with fascinating ideas, then Some Desperate Glory absolutely qualifies."—The Washington Post

"What begins as classic military space opera blossoms into something far more complex and interesting. . . . The well-told story combines thrilling action with more thoughtful content, touching on such hot topics as AI, fascism and gender politics, and looks like another award winner."—The Guardian

"This brilliant, queer space opera combines smart worldbuilding with nuanced explorations of gender, fascism, racism, and more."—Buzzfeed

"A profoundly humane and brilliantly constructed space opera that will have you cheering, swearing, laughing, and ugly-crying. It's perfect."—Alix E. Harrow, New York Times bestselling author of The Once and Future Witches

"This book hit me like a lightning bolt. From the destruction of Earth on the first page, to the human cult on a forgotten space station, to the indoctrinated teen soldier whose narrow worldview Tesh cracks open with pliers, this book is astoundingly good. An explosive and extraordinary story that I couldn't stop reading and will never forget."—Everina Maxwell, author of Winter's Orbit

"This book will turn you inside out and then casually remake you while you wheeze in gratitude. Unflinchingly intense, gloriously queer, and with one of the most finely-crafted and fascinating character journeys I've ever read, Some Desperate Glory is space opera at its absolute best."—Freya Marske, Sunday Times bestselling author of A Marvellous Light

"Devastatingly entertaining, horribly funny, Some Desperate Glory swoops through space and time with effortless precision, never pulling a punch or settling for an easy answer. There's nothing else like it."—A. K. Larkwood, author of The Unspoken Name

"Tesh turning her novelistic sights to space opera is an event that should make every speculative fiction reader take note: Some Desperate Glory is a masterful take on survival and revenge and what's beyond them."—The Chicago Review of Books

"I can't stop thinking about this novel. I wish there were a multiverse I could access where I hadn't yet listened to it just so I could experience it again. Emily Tesh's debut novel delivers a rich, terrifying vision of post-Earth humanity and a misguided hero whose redemption you can't help but root for."—Audible, featured in Best SFF of the Year So Far

"This is a spectacular space opera. It's bold, imaginative, occasionally grim, and ultimately hopeful that individuals can change, and can make a difference."—Locus

"Rife with rich settings and refreshingly distinct alien species, Some Desperate Glory will resonate with readers looking for messy morality and antihero redemption arcs."—BookPage

"Fans of military femme sci-fi and of queer space opera, take note. This is a book about how to pry your mind out of a fascist upbringing, and so much more. . . . A keen observation of how catastrophe creates radicalism. In a book that is a heady mix of military space opera and sensitive character study, a girl bred for brutal combat begins to question the narratives that formed her."—The New Scientist

"Some Desperate Glory has become one of my early favorites of the year. . . . [Kyr's] emotional journey . . . had me ugly-sobbing on the train."—LitHub

"The novel . . . traces the awakening of Kyr's conscience and her efforts to shake off the chains of a martial, heteronormative upbringing and embrace otherness. If that makes it sound dry and worthy, it is anything but. This is vigorous, action-packed space opera with a progressive slant."—Financial Times

"Engage hyperdrive, readers . . . . You'll fly through this queer dark space opera—about a warrior raised to avenge the destruction of planet Earth—at the speed of light!"—WeAreBookish

"A queer space opera exploring the themes of war, found family, and fighting for who you are when your choices are taken away? Yes, please!"—Portalist

Praise for the World Fantasy Award-winning Silver in the Wood

"A true story of the woods, of the fae, and of the heart. Deep and green and wonderful."—Naomi Novik

"A wildly evocative and enchanting story of old forests, forgotten gods, and new love."—Jenn Lyons

"Find a quiet place in a nearby wood, listen to the trees whisper, and thank the old gods and new for this beautiful little book, of which I intend to get lost in again and again."—Book Riot