Be My Baby: A Memoir (Paperback)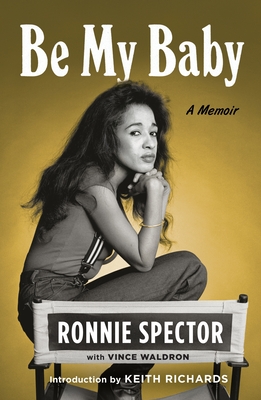 $19.99

Not In Store - Available to special order for pickup or ship. For even speediest shipping we suggest our Bookshop.org page!
Staff Reviews
---
Often overshadowed by Tina Turner's story, Ronnie Spector, sadly posthumously, finally gets her say in this captivating new book. Her life and career are as remarkable as any music superstar from the mid 20th Century. Spector's voice was an instrument of the angels and her professional and personal rise and fall is an enthralling who's who of the Rock world. With such a sweeping journey of highs and lows, it's a wonder Ronnie Spector was able to survive a notoriously destructive industry, but she sure did. "Be My Baby" is highly recommended for music fans young and old and anywhere in between.
— Gene
Description
---
Hailed by Rolling Stone magazine as one of the greatest rock memoirs of all time, Be My Baby is the true story of how Rock and Roll Hall of Famer Ronnie Spector carved out a space for herself against tremendous odds amid the chaos of the 1960s music scene and beyond.

Ronnie Spector's first collaboration with producer Phil Spector, "Be My Baby," stunned the world and shot girl group the Ronettes to stardom. No one could sing as clearly, as emotively as Ronnie. But her voice was soon drowned out in Phil Spector's Wall of Sound, and lost in Ronnie and Phil's ensuing romance and marriage.
Ronnie had to fight tooth and nail to wrest back control of her life, her music, and her legacy. And while she regained her footing, Ronnie found herself recording with Stevie Van Zandt, partying with David Bowie, and touring with Bruce Springsteen.

Smart, humorous, and self-possessed, Be My Baby is a whirlwind account of the twists and turns in the life of an artist. More than anything, Be My Baby is a testament to the fact that it is possible to stand up to a powerful abuser and start on a second—or third, or fifth—act.

Includes photographs and an introduction by Keith Richards
About the Author
---
Ronnie Spector shot to fame in 1963 as the lead singer of the Ronettes, the quintessential girl group responsible for bringing a streetwise style to rock music and for a string of hits that included "Be My Baby." Inducted into the Rock and Roll Hall of Fame in 2007, Ronnie Spector and her iconic look and sound have inspired new generations of female artists, including Amy Winehouse. She toured the world throughout the six decades of her extraordinary career. Ronnie Spector died on January 12, 2022.

Vince Waldron is an author and Emmy-winning writer. He lives in Los Angeles.
Praise For…
---
Rolling Stone: 50 Greatest Rock Memoirs of All Time (#14)
NME: 20 Rock Memoirs That Don't Hold Back (#10)
Far Out Magazine (UK): 10 Greatest Rock Memoirs of All Time (#8)

"What a trip it was, being Miss Ronnie Spector. And what a perfect, challenging moment in our culture to revisit—and revel in—this edge-of-your-seat tutorial from the ultimate Cool Girl on surviving her tumultuous rock opera with joy and talent intact. These pages are laced with pure, straight-up Ronnie—hilariously deadpan about her astonishing life, fierce, clear-eyed, and still mad for the music. Dive in and fall in l-o-v-e."
—Gerri Hirshey, author of We Gotta Get Out of This Place: The True, Tough Story of Women in Rock

"An entertaining, gossipy, whirlwind ride through the 1960s."
—Wendy Leigh, London Sunday Times

"Funny and observant, consistently engaging . . . sprinkled with deadpan humor."
—Mike Boehm, Los Angeles Times

"Entertaining, often disturbing . . . well told and . . . quite moving. Be My Baby . . . marks the passage of Ronnie Spector from victim to survivor."
—Alan Light, Rolling Stone

"If you're looking for self-pity, you'll be disappointed, because her book, like her voice, is full of cocky, smart, self-aware humor. And, yes, in case you were wondering, it totally sucked to be married to Phil Spector."
—Rob Sheffield, Rolling Stone

"Arguably one of the most potent voices of rock 'n' roll's early moments, Ronnie Spector was the lynchpin of The Ronettes and the ultimate 1960s powerhouse performer. . . . She is strong, bolshy and sharp as a tack."
—Far Out (UK)

"An enthralling and moving Dante-esque descent through the rock 'n' roll inferno. One of the three greatest rock 'n' roll memoirs."
—Jon Wilde, Blitz (London)

"Not only does this book give a revealing look at what it takes to be in one of the greatest girl groups of all time, it also casts a sinister light on Ronnie's former husband and Wall of Sound svengali, Phil Spector."
—Emily Barker, NME

"Despite all the hard times, Ronnie comes across here as a survivor, and the book maintains a surprisingly jaunty tone."
—Ilene Cooper, Booklist

"A lively, illuminating read . . . Spector's portrait of the energy of the early Sixties music scene is fascinating."
—Kirkus Reviews