My Darkest Prayer: A Novel (Paperback)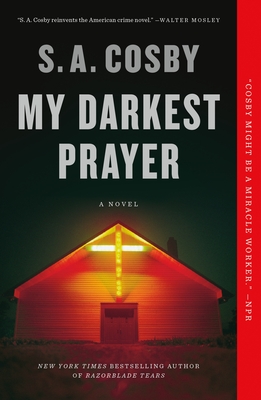 $16.99

Not In Store - Available to special order for pickup or ship. For even speediest shipping we suggest our Bookshop.org page!
Staff Reviews
---
S.A. Cosby always writes these incredible nail biting, hanging off the side of your bed staying up until 3am stories. My Darkest Prayer is no different, set into a small town where corrupt police, crime, wannabe gangstas and secrets evolve. Our main character Nathan must navigate figuring out the truth in a town that seems everything but!
— Chardai
December 2022 Indie Next List
---
"Former deputy Nathan Waymaker agrees to look into the sudden death of a beloved preacher of a Black church in a small Southern town. Cosby is a master of drawing you into a world where every knock on the door sounds like a harbinger of death."
— Alden Graves, Northshire Bookstore, Manchester Center, VT
Description
---
Award-winning, New York Times bestselling author S. A. Cosby's debut novel My Darkest Prayer is republished in a new edition, with a new introduction from the author.

"S.A. Cosby's reissued debut thriller proves he was a master from the start…Cosby has in three books emerged as one of the genre's best living practitioners...its reissue is a brilliant idea." —Los Angeles Times

"I handle the bodies."

Whether it's working at his cousin's funeral home or tossing around the local riffraff at his favorite bar, Nathan Waymaker is a man who knows how to handle the bodies. A former marine and sheriff's deputy, Nathan has built a reputation in his small Southern town as a man who can help when all other avenues have been exhausted. When a beloved local minister is found dead, his parishioners ask Nathan to make sure the death isn't swept under the rug.

What starts out as an easy payday soon descends into a maze of mayhem filled with wannabe gangsters, vicious crime lords, porn stars, crooked police officers, and a particularly treacherous preacher and his mysterious wife. Nathan must use all his varied skills and some of his wit to navigate the murky waters of small town corruption even as dark secrets of his own threaten to come to the surface.

"[A] colorful tale of small-town corruption...[Cosby's] powerful storytelling skills shine through."
—Washington Post
About the Author
---
S. A. Cosby is an Anthony Award-winning writer from Southeastern Virginia. He is the author of the New York Times bestseller Razorblade Tears and Blacktop Wasteland, which won the Los Angeles Times Book Prize, was a New York Times Notable Book, and was named a best book of the year by NPR, The Guardian, and Library Journal, among others. When not writing, he is an avid hiker and chess player.
Praise For…
---
"S.A. Cosby's reissued debut thriller proves he was a master from the start…Cosby has in three books emerged as one of the genre's best living practitioners, testing the ways racism, misogyny and homophobia have distorted men's views of themselves and asking how they can be made whole. The protagonists in his subsequent novels are further explorations of the themes he approaches so beautifully in this debut — which is just one reason its reissue is a brilliant idea."
—Los Angeles Times

"[A] colorful tale of small-town corruption...[Cosby's] powerful storytelling skills shine through."
—Washington Post

"A bold, confident debut from a natural storyteller."
—Crimespree magazine

"A compelling character, a tangled mystery and crisp writing make this southern-fried investigation a hit. Rarely have I read a debut so self-assured. On nearly every page was a line I wish I'd written. S.A. Cosby has arrived fully formed."
—Eric Beetner, author of Rumrunners and Leadfoot

"With his debut novel My Darkest Prayer, author S.A. Cosby enters the crime fiction arena shoulder first, splintering open the door, and announcing his presence with a resounding crash. Consider yourself warned: his presence has been announced."
—Eryk Pruitt, award-winning screenwriter, author, and filmmaker

"Shawn Cosby knows how to turn a phrase. His similes are as masterful as they are entertaining. The man can write a hell of a fight scene, coupled with some authentic dialogue, and that's a perfect combination. Recommended? Absolutely."
—Paul Heatley, Mystery Tribune

Praise for S. A. Cosby:

"S. A. Cosby is a welcome, refreshing new voice in crime literature." —Dennis Lehane

"S. A. Cosby reinvents the American crime novel." —Walter Mosley

"Cosby's prose is vibrant and inventive, his action exuberant and relentless. . . . You may come for the setup, but you'll stay for the storytelling. Cosby writes in a spirit of generous abundance and gleeful abandon. . . . This is how crime writers establish a following: by priming readers to get excited about whatever's coming next. If that's the true measure of making a name for yourself, then Cosby's already there." —New York Times Book Review

"Elmore Leonard, wherever you are, you've got competition. . . . S. A. Cosby has reappeared as one of the most muscular, distinctive, grab-you-by-both-ears voices in American crime fiction." —Washington Post

"With writing that's as precise and emotionally engaging as it is cinematic, character and relationships reign supreme. . . . Addictive, arresting entertainment. S. A. Cosby might be a miracle worker. . . . Cosby's high-octane drama cements his ascension as a prince of the literary action thriller." —NPR