Canto Contigo: A Novel (Hardcover)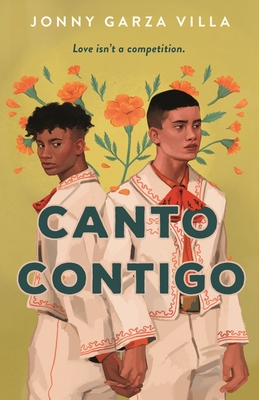 $20.00

Coming Soon - Available for Pre-Order Now
Description
---
When a Mariachi star transfers schools, he expects to be handed his new group's lead vocalist spot—what he gets instead is a tenacious current lead with a very familiar, very kissable face.

In a twenty-four-hour span, Rafael Alvarez led North Amistad High School's Mariachi Alma de la Frontera to their eleventh consecutive first-place win in the Mariachi Extravaganza de Nacional; and met, made out with, and almost hooked up with one of the cutest guys he's ever met.

Now eight months later, Rafie's ready for one final win. What he didn't plan for is his family moving to San Antonio before his senior year, forcing him to leave behind his group while dealing with the loss of the most important person in his life—his beloved abuelo. Another hitch in his plan: The Selena Quintanilla-Perez Academy's Mariachi Todos Colores already has a lead vocalist, Rey Chavez—the boy Rafie made out with—who now stands between him winning and being the great Mariachi Rafie's abuelo always believed him to be. Despite their newfound rivalry for center stage, Rafie can't squash his feelings for Rey. Now he must decide between the people he's known his entire life or the one just starting to get to know the real him.

Canto Contigo is a love letter to Mexican culture, family and legacy, the people who shape us, and allowing ourselves to forge our own path. At its heart, this is one of the most glorious rivals-to-lovers romance about finding the one who challenges you in the most extraordinary ways.
About the Author
---
JONNY GARZA VILLA (they/them) is an author of contemporary young adult literature with characters and settings inspired by their own Tejane, Chicane, and queer identities, including the Pura Belpré Honor Book Fifteen Hundred Miles from the Sun and Ander & Santi Were Here, a Bookshop.org Best YA of 2023 selection. Whatever the storyline, Jonny ultimately hopes Latines, and, more specifically, queer Mexican American young people will feel seen in their writing. When not writing, Jonny enjoys reading, playing Dungeons and Dragons, visiting taquerías, listening to Selena, and caring for their many cacti children. They live in San Antonio.
Praise For…
---
"With song and snark, Jonny Garza Villa has captured my heart yet again! Never have I rooted for two rivals more than with Rafie and Rey. This exploration of family, mariachi, and the difference between reputation versus expectation will stay with me for a long time." — Jason June, New York Times bestselling author of Out of the Blue

"Like Rafie and Rey when they first meet, this book swept me away from the very beginning. Jonny Garza Villa vibrantly blends mariachi, magical realism, first love and grief into a story about the ways that taking time to mourn is essential to being true to ourselves in life. Also: someone please make this book into a movie asap because I need to hear these songs performed the way only Rafie and Rey could." — Natalia Sylvester, Pura Belpré and Schneider honor-winning author of Breathe and Count Back from Ten

"Canto Contigo's explorations of first love, fresh grief, and the pressures behind building legacy sing together in perfect harmony. Another heartfelt, humorous, and healing story from Jonny Garza Villa that is guaranteed to stick in readers' heads like their new favorite song." -Racquel Marie, author of Ophelia After All

"Canto Contigo seamlessly blends love and hate, longing and grief, into the perfect anthem of young love that'll leave you begging for an encore. Jonny Garza Villa's done it again (make me cry)!" — Emery Lee, author of Café con Lychee