The Last Bloodcarver (Hardcover)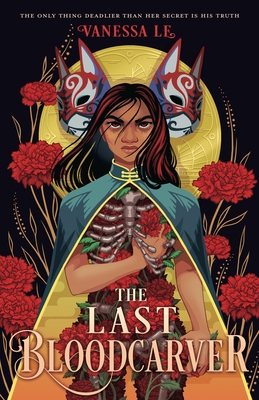 $19.99

Coming Soon - Available for Pre-Order Now
Description
---
The tantalizing romance of These Violent Delights meets the mechanical wonders of Cinder in The Last Bloodcarver, the first in a two-book debut - with a riveting medical magic system and lush Vietnam-inspired fantasy world.

Nhika is a bloodcarver. A cold-hearted, ruthless being who can alter human biology with just a touch. In the industrial city of Theumas, she is seen not as a healer, but a monster that kills for pleasure.

When Nhika is caught using her bloodcarving abilities during a sham medical appointment, she's captured by underground thugs and sold to an aristocratic family to heal the last witness of their father's murder.

But as Nhika delves deeper into their investigation amidst the glitz of Theumas' wealthiest district, she begins to notice parallels between this job and her own dark past. And when she meets an alluring yet entitled physician's aide, Ven Kochin, she's forced to question the true intent behind this murder. In a society that outcasts her, Kochin seems drawn to her...though he takes every chance he gets to push her out of his opulent world.

When Nhika discovers that Kochin is not who he claims to be, and that there is an evil dwelling in Theumas that runs much deeper than the murder of one man, she must decide where her heart, and her allegiance, truly lie. And - if she's willing to become the dreaded bloodcarver Theumas fears to save herself and the ones she's vowed to protect.
About the Author
---
Vanessa Le graduated from Brown University with a degree in Health and Human Biology and now resides in the Pacific Northwest. Her writing is an expression of her love for medicine and her Vietnamese heritage. When not writing, she's wishing she was writing, studying medicine, and/or spoiling her two Shiba Inus.