Like Happiness: A Novel (Hardcover)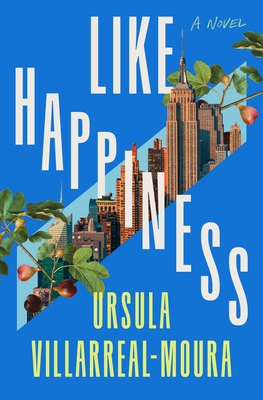 $28.00

Coming Soon - Available for Pre-Order Now
Description
---
A searing debut about the complexities of gender, power, and fame, told through the story of a young woman's destructive relationship with a legendary writer.

It's 2015, and Tatum Vega feels that her life is finally falling into place. Living in sunny Chile with her partner, Vera, she spends her days surrounded by art at the museum where she works. More than anything else, she loves this new life for helping her forget the decade she spent in New York City orbiting the brilliant and famous author M. Domínguez.

When a reporter calls from the US asking for an interview, the careful separation Tatum has constructed between her past and present begins to crumble. Domínguez has been accused of assault, and the reporter is looking for corroboration.

As Tatum is forced to reexamine the all-consuming but undefinable relationship that dominated so much of her early adulthood, long-buried questions surface. What did happen between them? And why is she still struggling with the mark the relationship left on her life?

Told in a dual narrative alternating between her present day and a letter from Tatum to Domínguez, recounting and reclaiming the totality of their relationship, Like Happiness explores the nuances of a complicated and imbalanced relationship, catalyzing a reckoning with gender, celebrity, memory, Latinx identity, and power dynamics.
About the Author
---
Ursula Villarreal-Moura was born and raised in San Antonio, Texas. She is the author of Math for the Self-Crippling, a flash fiction collection. Like Happiness is her first novel.
Praise For…
---
"Thanks to Villarreal-Moura, I found another perfect book to recommend for both Sunday reads and subway commutes - my favorite kind! The retrospective confession of San Antonio-native Tatum about her thorny relationship with a prominent Nuyorican writer intertwines desire, destiny, and a love for art and literature in what feels like a transformative conversation with an old friend. Expertly written with striking intimacy and heartbreaking clarity, Like Happiness accomplishes a profound emotional electrocution that will leave you floating lighter for days."
—Xochitl Gonzalez, author of Olga Dies Dreaming

"Like Happiness is a deft and touching coming of age story that resists easy answers to very thorny questions—about sexual consent and power, about fame and persona, about making and loving art."
—Rumaan Alam, bestselling author of Leave the World Behind and finalist for the National Book Award

"Like Happiness is a stunning swirl of a coming of age novel about power, manipulation, and complicity. In Tatum, Ursula Villarreal-Moura has created an eminently relatable character. Readers will connect to her love of books, her complicated relationships, and the different ways she grapples with understanding herself—in relation to class, sexuality, race, and family ties. This is the start of a brilliant career."
—Megan Giddings, author of The Women Could Fly and Lakewood

"An epic unraveling of every love story trope, reclaimed as something sharp, seething, unsettling, and true. Yes, this has page flipping plot momentum, but it's also a whip smart critique of race in America, art making in the age of neoliberal "feminism," and the crushing humor of trying to exist as a quiet person with big wants. I am so glad Villarreal-Moura's writing is here and thriving."
—T Kira Madden, author of Long Live the Tribe of Fatherless Girls