Four Eids and a Funeral (Hardcover)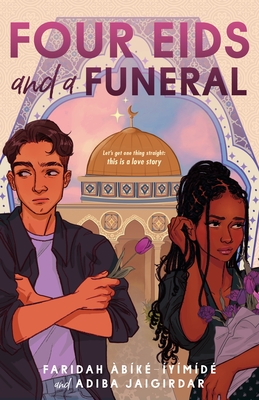 $19.99

Coming Soon - Available for Pre-Order Now
Description
---
Ex-best friends, Tiwa and Said, must work together to save their Islamic Center from demolition, in this romantic story of rekindling and rebuilding by award-winning authors Faridah Àbíké-Íyímídé & Adiba Jaigirdar!

These days, Said Hossain spends most of his time away at boarding school. But when his favorite hometown librarian Ms. Barnes dies, he must return home to New Crosshaven for her funeral and for the summer. Too bad being home makes it a lot harder to avoid facing his ex-best friend, Tiwa Olatunji, or facing the daunting task of telling his Bangladeshi parents that he would rather be an artist than a doctor.

Tiwa doesn't understand what made Said start ignoring her, but it's probably that fancy boarding school of his. Though he's unexpectedly staying through the summer, she's determined to take a page from him and pretend he doesn't exist. Besides, she has more than enough going on, between grieving her broken family and helping her mother throw the upcoming Eid celebration at the Islamic Center—a place that means so much to Tiwa.

But when the Islamic Center accidentally catches fire, it turns out the mayor plans to demolish the center entirely. Things are still tense between the ex-friends but Tiwa needs Said's help if there's any hope of changing the mayor's mind, and Said needs a project to submit to art school (unbeknownst to anyone). Will all their efforts be enough to save the Islamic Center, save Eid, and maybe save their relationship?
About the Author
---
Faridah Àbíké-Íyímídé is the instant New York Times, International bestselling, & Award-winning author of Ace of Spades. She is an avid tea drinker, a collector of strange mugs, and a graduate from a university in the Scottish Highlands where she received a BA in English Literature. She also has an MA in Shakespeare Studies from Kings College London. When she isn't spinning dark tales, Faridah can be found examining the deeper meanings in Disney channel original movies.

Adiba Jaigirdar is the critically-acclaimed and bestselling author of The Henna Wars and Hani & Ishu's Guide to Fake Dating. A Bangladeshi/Irish writer and teacher, she has an MA in Postcolonial Studies from the University of Kent, England and a BA in English and History from UCD, Ireland. All of her writing is aided by tea, and a healthy dose of Janelle Monáe and Hayley Kiyoko. When not writing, she is probably ranting about the ills of colonialism, playing video games, or expanding her overflowing lipstick collection. She can be found on Twitter and on Instagram