Masquerade (Hardcover)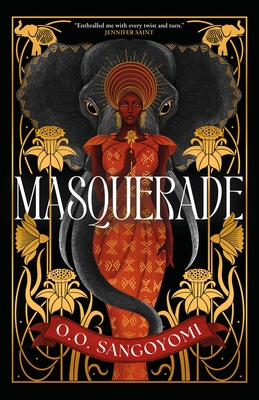 $27.99

Coming Soon - Available for Pre-Order Now
Description
---
Set in a wonderfully reimagined 15th century West Africa, Masquerade is a dazzling, lyrical tale exploring the true cost of one woman's fight for freedom and self-discovery, and the lengths she'll go to secure her future.

"Sangoyomi delivers an incisive examination of gender, temptation, and the lengths people will go to hold power—a magnificent debut!" —Vaishnavi Patel, New York Times bestselling author of Kaikeyi

Òdòdó's hometown of Timbuktu has been conquered by the warrior king of Yorùbáland. Already shunned as social pariahs, living conditions for Òdòdó and the other women in her blacksmith guild grow even worse under Yorùbá rule.

Then Òdòdó is abducted. She is whisked across the Sahara to the capital city of Ṣàngótẹ̀, where she is shocked to discover that her kidnapper is none other than the vagrant who had visited her guild just days prior. But now that he is swathed in riches rather than rags, Òdòdó realizes he is not a vagrant at all; he is the warrior king, and he has chosen her to be his wife.

In a sudden change of fortune, Òdòdó soars to the very heights of society. But after a lifetime of subjugation, the power that saturates this world of battle and political savvy becomes too enticing to resist. As tensions with rival states grow, revealing elaborate schemes and enemies hidden in plain sight, Òdòdó must defy the cruel king she has been forced to wed by re-forging the shaky loyalties of the court in her favor, or risk losing everything—including her life.

Loosely based on the myth of Persephone, O.O. Sangoyomi's Masquerade takes you on a journey of epic power struggles and political intrigue that turn an entire region on its head.
About the Author
---
O.O. SANGOYOMI is a Nigerian American author with a penchant for African mythology and history. During a childhood of constantly moving around within the U.S., she found an anchored home in the fictional worlds of books. Sangoyomi is a graduate of Princeton University, where she studied English and African American Studies. Masquerade is her debut novel.
Praise For…
---
"With sweeping romance, an incredible setting, and a heroine who will stop at nothing to have the life she deserves, Masquerade is a triumphant blend of history and folklore that will keep you glued to the page."
—Hannah Whitten, New York Times bestselling author of For the Wolf

"Mixing political intrigue and slow corruption with a captivating heroine and gorgeously rendered setting, Sangoyomi delivers an incisive examination of gender, temptation, and the lengths people will go to hold power—a magnificent debut!"
—Vaishnavi Patel, New York Times bestselling author of Kaikeyi