The Imposition of Unnecessary Obstacles (The Investigations of Mossa and Pleiti #2) (Hardcover)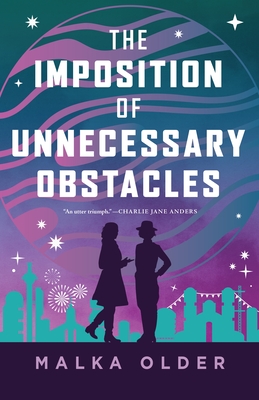 $20.99

Coming Soon - Available for Pre-Order Now
Other Books in Series
This is book number 2 in the The Investigations of Mossa and Pleiti series.
Description
---
Investigator Mossa and Scholar Pleiti reunite to solve a new mystery in the follow-up to the cozy space-opera detective mystery The Mimicking of Known Successes, which Hugo Award-winning author Charlie Jane Anders called "an utter triumph."

Mossa has returned to Valdegeld on a missing person's case, for which she'll once again need Pleiti's insight. Seventeen students and staff members have disappeared from Valdegeld University—yet no one has noticed. The answers to this case may lie on the moon of Io—Mossa's home—and the history of Jupiter's original settlements during humanity's exodus from Earth.

But Pleiti's faith in her life's work as a scholar of the past has grown precarious, and this new case threatens to further destabilize her dreams for humanity's future, as well as her own.

The Investigations of Mossa and Pleiti
The Mimicking of Known Successes
The Imposition of Unnecessary Obstacles

The Centenal Cycle
Infomocracy
Null States
State Tectonics
About the Author
---
Malka Older is a writer, aid worker, and sociologist. Her science-fiction political thriller Infomocracy was named one of the best books of 2016 by Kirkus Reviews, Book Riot, and The Washington Post. She is the creator of the serial Ninth Step Station, currently running on Realm, and her short story collection And Other Disasters came out in November 2019. She is a Faculty Associate at Arizona State University's School for the Future of Innovation in Society and teaches in the genre fiction MFA at Western Colorado University. Her opinions can be found in The New York Times, The Nation, and Foreign Policy, among others.
Praise For…
---
"My favorite detective couple since Holmes and Watson."—SciFi Mind

"Brilliant on all counts."—First Clue

"Their romance is heartwarming, and Mossa's observations on the human nature of those she investigates are as wry and witty as ever. Readers of their first outing, The Mimicking of Known Successes, will be thrilled to have Mossa and Pleiti back on the case."—Library Journal

"Imminently readable and propulsive... Readers looking for a quick, comforting mystery will enjoy curling up with this."—Publishers Weekly

Praise for The Mimicking of Known Successes

"Every once in a while, a book comes along that is both a comfort read and a rousing, fist-pumping adventure, and The Mimicking of Known Successes absolutely is both of those things. An utter triumph."—Charlie Jane Anders

"Older has created a wonderfully sci-fi take on the gaslamp mystery. Add in the wry depiction of academia and the warmly authentic portrayal of a relationship in the process of rekindling, and this is exactly my kind of story!"—Freya Marske

"A magnificently imaginative setting, a nicely developed and satisfyingly resolved mystery, a beautifully understated central romance, and a lot of thought-provoking ideas make this an immensely satisfying read [that] does more at novella length than many books manage in three times as much."—K. J. Charles

"Malka Older has created a far-flung speculative winner that is as much hard science fiction as it is gritty xenobiological noir, with characters you want to see get closer. . .to the possible killer and each other. I am absolutely in love with this world and these characters."—Fran Wilde

"Malka Older's The Mimicking of Known Successes mixes Holmesian mystery, Sapphic romance, petty academic politics, and post-apocalyptic speculative ecology into a delightful and unexpected concoction. The perfect book to curl up with when the wind is howling outside, even if it's only a Terran blizzard rather than a Jovian superstorm."—Ruthanna Emrys

"It's hard to pull off a novel that attempts to have equal footing in two genres—never mind three—and typically one of the genres ends up taking on a minor role . . . but The Mimicking of Known Successes, a work of speculative fiction, a traditional mystery, and a romance, is a walloping success."—First Clue, starred review

"This quiet yet compelling whodunit will attract fans of Becky Chambers or Connie Willis."—Booklist (starred review)

"Older packs a punch in this slim volume, delivering a romantic sci-fi mystery replete with ruminations on environmentalism and the importance of adapting to change. . . . Combining an old-timey aesthetic and a powerful message, this sapphic genre bender is a treat."—Publishers Weekly, starred review

"Reading this novella was an absolute delight . . . I can imagine further stories set in this world; if I'm very lucky, they will feature Mossa and Pleiti."—Locus

"Recommended for readers who enjoy a bit of mystery mixed with their SF . . . and anyone who cannot resist a Sherlock Holmes pastiche."—Library Journal