Mother Grains: Recipes for the Grain Revolution (Hardcover)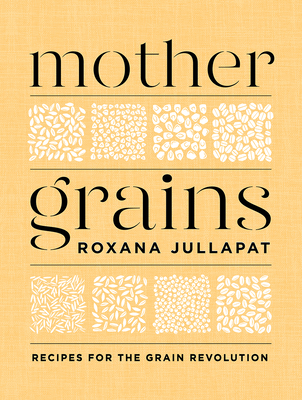 $40.00

On Our Shelves Now - Click to see location, time, and stock details
Staff Reviews
---
One of my favorite baking books, it changed how I think about flours and grains. Sorghum and buckwheat are always on-hand in my pantry thanks to this book. Each chapter highlights a different grain, including gorgeous photos and helpful info on history, purchasing, and processing. My fave elements: 8 variations on choco chip cookies (p.254), Buckwheat Skillet pancake (p.83), the index of vegan & gluten free recipes.
— Sybil
Description
---
Finalist for the IACP Cookbook Award in Baking and the James Beard Foundation Book Award in Baking and Desserts

Named a Best Cookbook of the Year by Bon Appétit, NPR, Washington Post, Epicurious, WBUR Here & Now, and Five Books

Named a Best Cookbook of the Spring by Eater, Epicurious, and Robb Report



The key to better, healthier baked goods is in the grain. Barley, buckwheat, corn, oats, rice, rye, sorghum, and wheat will unlock flavors and textures as vast as the historic lineages of these ancient crops.
As the head baker and owner of a beloved Los Angeles bakery, Roxana Jullapat knows the difference local, sustainable flour can make: brown rice flour lightens up a cake, rustic rye adds unexpected chewiness to a bagel, and ground toasted oats enrich doughnuts. Her bakery, Friends & Family, works with dedicated farmers and millers around the country to source and incorporate the eight mother grains in every sweet, bread, or salad on the menu. In her debut cookbook, Roxana shares her greatest hits, over 90 recipes for reinventing your favorite cakes, cookies, pies, breads, and more.
Her chocolate chip cookie recipe can be made with any of the eight mother grains, each flour yielding a distinct snap, crunch, or chew. Her mouthwatering buckwheat pancake can reinvent itself with grainier cornmeal. One-bowl recipes such as Barley Pumpkin Bread and Spelt Blueberry Muffins will yield fast rewards, while her Cardamom Buns and Halvah Croissants are expertly laid out to grow a home baker's skills. Recipes are organized by grain to ensure you get the most out of every purchase.
Roxana even includes savory recipes for whole grain salads made with sorghum, Kamut or freekeh, or easy warm dishes such as Farro alla Pilota, Toasted Barley Soup, or Gallo Pinto which pays homage to her Costa Rican upbringing. Sunny step-by-step photos, a sourcing guide, storage tips, and notes on each grain's history round out this comprehensive cookbook.
Perfect for beginner bakers and pastry pros alike, Mother Grains proves that whole grains are the secret to making any recipe so much more than the sum of its parts.
About the Author
---
Roxana Jullapat is the baker and co-owner of Friends & Family in Los Angeles. She grew up in Costa Rica, trained with Nancy Silverton at Campanile, and ran Cooks County restaurant. She lives in Los Angeles.
Praise For…
---
[Mother Grains] makes baking with the world of ancient grains more accessible and exciting than ever...Roxana Jullapat is a total grain-head… her enthusiasm for really old grains rubbed off on me like rice flour on a black apron.

— Alex Beggs - Bon Appetit

Today's home baker has a larger variety of grains at their fingertips than ever before, and this book is the definitive guide on how to use them in all of your baked goods. Through years of trial and error, Roxana Jullapat has learned the subtleties and nuances of our mother grains, and here she lays them all out in an elegant, comprehensive, simple book. Paying homage to all of those who paved the way for us here today, Mother Grains is sure to become a classic to all of those who are fortunate enough to spend some time with it.

— Josey Baker, Josey Baker Bread and The Mill

Hearing Roxana Jullapat talk about grains is hypnotic, and reading her recipes makes you want to go out, buy some sorghum, and start baking...Jullapat takes readers by the hand and leads them into the sublime world of the grains she loves, combining history, lush description, and a whimsical list of recipes ranging from Blueberry Blue Cornmeal Scones to Figgy and Purple Barley Cake and Chocolate Dynamite Cookies (with rye).
— Hilary Macht - Civil Eats

Roxana Jullapat's excellent new book Mother Grains transforms grains from a humble workhorse ingredient to a star in her delicious pastries and breads. I am lucky to live in Los Angeles near her bakery Friends & Family, but if you aren't close, this book will take you inside and you will be happy you did. And when you make her brioche pecan sticky buns and barley pumpkin bread with candied kumquats, your own family and friends will be thrilled too.

— Nancy Silverton, founder of La Brea Bakery and chef owner of the Mozza Restaurant Group

With a clear, concise and confident point of view, Roxana Jullapat, has generously shared her love for pastry and bread within the recipes in her first book, Mother Grains. With respect and reverence for local, seasonal whole grains, fruits and vegetables, she takes inspiration from her ingredients and teaches us how to expand our repertoire to make pastries with depth and character.
— Kim Boyce - owner of Bakeshop in Portland, OR

I cannot RYE - Roxana has risen to the occasion with this A-MAIZINGLY organized and inspiring book! In Mother Grains she takes us on a journey with the ultimate guide to baking with grains. The recipes dance off the pages and demonstrate that baking with grains is easy and I can't WHEAT to bake all of them! This is an all you KNEAD addition to the collection of any amateur, baking enthusiast or professional!  Roxana is truly the Godmother of Grains!

— Sherry Yard, author of Secrets of Baking and Desserts by the Yard

Rather than thinking of grains as the flavorless glue holding your cakes together, Mother Grains helps you see them as the celebration itself.
— Eater

While there's something in Mother Grains for the folks who've been ambitious about their sourdough since the early months of lockdown (or before), what delights me most about this cookbook from renowned Los Angeles baker Roxana Jullapat is that it isn't just for the hardcore... It gives home bakers a taste of what's been going on in many of the best bakeries lately, illustrating how diversifying your flour pantry and leaning on full-flavored grains like buckwheat, sorghum, rye, barley, and heirloom wheat is a bit like switching from coloring with graphite pencil to painting with a rainbow palette.

— Maggie Hoffman - Epicurious

This powerhouse cookbook is a thoughtful study of the culture, history, science, and agriculture underpinning grains. I love that many of Roxana's recipes operate more as frameworks than as specific instructions—her chocolate chip cookies can be done seven different ways, with seven different grains, resulting in seven very different flavor profiles! My flour-dusted copy is already a permanent fixture in my kitchen.
— Peter J. Kim - Food52

Flour-dusted hands down, Mother Grains is my favorite cookbook of the year. Many of its recipes are favorites from Roxana Jullapat's Friends & Family bakery in Los Angeles. All incorporate local and heirloom grains to maximize texture, nutrition and deliciousness – plus a bonus sense of virtue... you'll never want to revert to the standard all-purpose flour Toll House recipe again.

— Heller McAlpin - NPR

Jullapat, the head baker and owner of Friends & Family in Los Angeles, has done a fabulous job of making freshly milled grains and whole grain baking accessible to the home cook... The book includes both sweet and savory recipes, but the pastries are the real stars.
— Emily Johnson - Epicurious