Michi Challenges History: From Farm Girl to Costume Designer to Relentless Seeker of the Truth: The Life of Michi Nishiura Weglyn (Hardcover)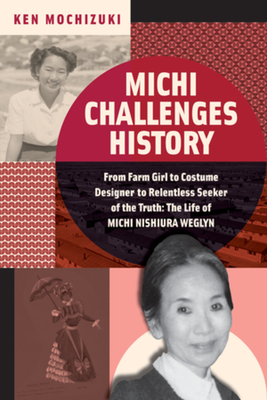 $19.95

On Our Shelves Now - Click to see location, time, and stock details
Description
---
A powerful biography of Michi Weglyn, the Japanese American fashion designer whose activism fueled a movement for recognition of and reparations for America's World War II concentration camps.
The daughter of Japanese immigrants, Michi Nishiura Weglyn was confined in Arizona's Gila River concentration camp during World War II. She later became a costume designer for Broadway and worked as the wardrobe designer for some of the most popular television personalities of the '50s and early '60s.
In 1968, after a televised statement by the US Attorney General that concentration camps in America never existed, Michi embarked on an eight-year solo quest through libraries and the National Archives to expose and account for the existence of the World War II camps where she and other Japanese Americans were imprisoned. Her research became a major catalyst for passage of the Civil Liberties Act of 1988, in which the US government admitted that its treatment of Japanese Americans during World War II was wrong.       
Thoroughly researched and intricately told, Michi Changes History is a masterful portrayal of one woman's fight for the truth—and for justice.
About the Author
---
Ken Mochizuki is the author of several award-winning books for young readers, most notably Baseball Saved Us. He is a well-known historian of Asian Pacific history and regularly presents to schools and universities. He lives in Seattle.