Not Your All-American Girl (Paperback)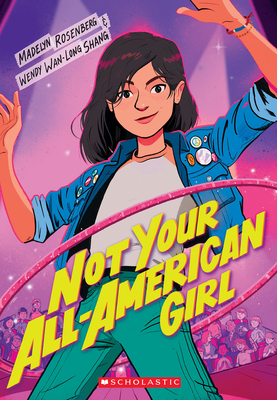 $8.99

Not In Store - Available to special order for pickup or ship. For even speediest shipping we suggest our Bookshop.org page!
Description
---
A multicultural story full of heart and hilarity about what it means to be all-American.Lauren and her best friend, Tara, have always done absolutely everything together. So when they don't have any classes together in sixth grade, it's disastrous. The solution? Trying out for the school play. Lauren, who loves to sing, wonders if maybe, just maybe, she will be the star instead of Tara this time.But when the show is cast, Lauren lands in the ensemble, while Tara scores the lead role. Their teacher explains: Lauren just doesn't look the part of the all-American girl. What audience would believe that she, half-Jewish, half-Chinese Lauren, was the everygirl star from Pleasant Valley, USA?From amidst the ensemble, Lauren tries to support her best friend. But when she can't bring herself to sing anymore, her spot in the play and her friendship are in jeopardy. With the help of a button-making business, the music of Patsy Cline, and her two bickering grandmothers, can Lauren find her voice again?Acclaimed coauthors Madelyn Rosenberg and Wendy Wan-Long Shang return to the 1980s world of Sydney Taylor Honor Book This Is Just a Test with this laugh-out-loud coming-of-age story.
About the Author
---
Madelyn Rosenberg is the coauthor of This Is Just a Test, a Sydney Taylor Honor Book, and Not Your All-American Girl, which she wrote with Wendy Wan-Long Shang; Dream Boy, cowritten with Mary Crockett; and many books for younger readers, including the How to Behave books and Cyclops of Central Park. She writes books, articles, and essays for children and adults, and lives in the suburbs of Washington, DC. You can visit her online at madelynrosenberg.com.
Wendy Wan-Long Shang is the author of The Great Wall of Lucy Wu, which was awarded the Asian/Pacific American Award for Children's Literature; The Way Home Looks Now, an Amelia Bloomer Project List selection and a CCBC Choices List selection; The Secret Battle of Evan Pao, which received multiple starred reviews; Sydney Taylor Honor Book This Is Just a Test, which she cowrote with Madelyn Rosenberg; and Not Your All-American Girl, a Tablet Magazine Best Children's Book, also cowritten with Madelyn Rosenberg. She lives with her family in the suburbs of Washington, DC.
Praise For…
---
Praise for Not Your All-American Girl:
A Tablet Magazine Best Book
"A nearly pitch-perfect middle school exploration of race and friendship." -- Kirkus Reviews
"Lauren's story is a sensitive and realistic portrayal of a girl who struggles to find her place in a community where very few people look like her… this is a funny, tender, quick-moving story of family, friendship, identity, and music." -- School Library Journal
"While focusing on serious themes (racism and prejudice), the overall tone remains light, and several scenes (including Lauren's disastrous attempt to lighten her black hair, resulting in orange stripes) will elicit laughter." -- Booklist
Praise for This Is Just a Test:
2017 Sydney Taylor Award -- Honor Book
CBC Book of the Year Finalist
2017 VOYA Top Shelf Fiction for Middle School Readers
New-York Historical Society's Children's History Book Prize Finalist
2018 Young Adult Virginia Author Award Finalist
"For a book about the possible end of the world, Rosenberg and Shang keep the tone surprisingly light... The dialogue is snappy and the plot fast-paced." -- The New York Times Book Review
* "It's refreshing to meet a male protagonist who, like Tara in Paula Freedman's My Basmati Bat Mitzvah, is struggling with how to be authentically Jewish in a bicultural family... Giggle-inducing, light, and charmingly realistic fiction that will resonate with a wide variety of readers." -- School Library Journal, starred review
"There's a lot to enjoy, but it's David's relationships with his two grandmothers that steal the show, especially when the rivals eventually unite to teach him he's not 'half of each' but 'all of both.' A nostalgic and heartwarming period coming-of-age comedy." -- Kirkus Reviews
"A journey filled with humor, emotional depth, and important realizations about what it means to be a friend and to embrace multiple cultures. His struggle to make sense of the Cold War will resonate with readers grappling with a confusing political climate themselves." -- Publishers Weekly
"This novel tackles the very difficult topic of understanding who you are while appreciating your background and differences... In today's society, where families come in diverse variations and many children are growing up biracial and/or multiethnic, plenty of readers will find relevance to their lives in this middle-grade novel." -- School Library Connection
"The first-person narrative engages readers with David's candid reflections as well as his droll telling of events." -- Booklist
"Rosenberg and Shang keep the plot episodic and light, allowing David's feuding grandmothers to upstage the kids in many of the acts... Underpinning the domestic comedy is respect for fears that transcend generations." -- Bulletin of the Center for Children's Books
"[A] seamless collaboration by two truly gifted writers [and] a perfect read for summer and beyond." -- Christian Science Monitor
"Rosenberg and Shang infuse this story with humor, tenderness and a genuine examination of what it means to grow up caught between cultures." -- Richmond Times-Dispatch
"Sure to hold a reader's interest and filled with humor." -- Jewish Book Council
"This is the funniest middle-grade novel I read this year... Everything about this book is satisfying." -- Tablet Magazine
"A delightfully told story of competing sides in a tug-o-war/give-and-take battle, showing the reader that even 12-year-old seventh graders have a lot to deal with, whether it be on a grand scale such as international relations or on a smaller scale of balancing new and old friendships." -- Compass Book Ratings
"Rosenberg and Shang's warm, mostly realistic handling of David's multicultural family speaks for their comprehensive understanding of the struggles of identity they depict, and makes David a unique and relatable role model of a character." -- International Examiner
Praise for Wendy Wan-Long Shang
Praise for The Way Home Looks Now:
An Amelia Bloomer Project Selection
A CCBC Choices Selection
A BookPage Best of the Year selection
* "[A] fine story of family, loss, growing up and learning to play baseball, raised to a higher level by gracefully incorporated themes of feminism and kindness." -- Kirkus Reviews, starred review
* "Shang (The Great Wall of Lucy Wu) skillfully balances the different aspects of Peter's life, robustly characterizing his friendships and his time at school and home. Issues of sexism, racism, and struggles with depression are handled deftly in scenarios grounded in reality, including an ending that's hopeful without being pat." -- Publishers Weekly, starred review
"Readers will cheer Peter on as his love for his family drives him to persevere at home and on the field. Parallels between home plate and home as place abound as grief completes its work and relationships are restored. Interwoven with cultural ties to both Peter's Chinese heritage and to the women's liberation movement, this touching novel shows the importance of patience -- baseball." -- Booklist
Praise for The Great Wall of Lucy Wu:
Winner of the Asian/Pacific American Library Association Award for Children's Literature
"A delightful story about assimilation and family dynamics... sure to appeal to young readers struggling with issues of selfidentity, whatever their heritage." -- Los Angeles Times
"Thought-provoking, funny, and incredibly heartwarming." -- Booklist
"A realistic and amusing portrait of family dynamics, heritage, and the challenge of feeling like an outsider." -- Publishers Weekly
"Genuinely touching." -- Kirkus Reviews
"A unique look at the power of family." -- Discovery Girls Magazine