Children of the Quicksands (Hardcover)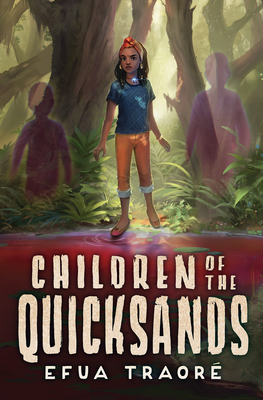 List Price: $18.99
Our Price: $17.99
(Save: $1.00 5%)
On Our Shelves Now - Click to see location, time, and stock details
Description
---
A richly imagined magical adventure set in West Africa by a prize-winning new voice in children's writing, Children of the Quicksands introduces readers to Yoruba myths and legends while showcasing the wealth of culture, traditions, adventure, joy, pride, and love found in Nigeria.
In a remote Nigerian village, thirteen-year-old Simi is desperate to uncover a family secret. Ajao is nothing like Lagos -- no cells phones, no running water or electricity. Not a single human-made sound can be heard at night, just the noise of birds and animals rustling in the dark forest outside. Her witchlike grandmother dispenses advice and herbal medicine to the village, but she's tight lipped about their family history. Something must have happened, but what?
Determined to find out, Simi disobeys her grandmother and goes exploring only to find herself sinking in the red quicksand of a forbidden lake and into the strange parallel world that lies beneath. It must have been a dream… right?
Wrong. Something isn't right. Children are disappearing and it's up to Simi to discover the truth.
About the Author
---
Efua Traoré is a Nigerian-German author who grew up in a small town in Nigeria. For as long as she can remember, her head was filled with little stories, but it was not until much later that she began to write them down. Children of the Quicksands is her debut novel.
Praise For…
---
Sunday Times Best Book for Children 2021
A Guardian Best Book for Children 2021
Shortlisted for the Waterstones Children's Book Prize
"The rural Nigerian milieu that Efua Traoré evokes in 'Children of the Quicksands' is by far the eeriest and most imaginative of the three [books reviewed]." -- The Washington Post
"Traoré's writing is enchanting, and it immerses readers into the colorful, rich world of Yoruba mythology. Simi is a protagonist that readers can root for, while the charming cast of side characters provides the reader with a multitude of personalities to enjoy. Vibrant and imaginative." -- Booklist
"A beautifully evoked story." -- The Telegraph
"Traore's storytelling feels almost otherworldly ... exhilarating" -- The Times
"[A] beautifully evoked story of a girl sent to stay with her grand-mother in a remote Nigerian village. When Simi suspects her grandmother is hiding family secrets, she sets out across the forbidden quicksands to discover the truth." -- The Telegraph (UK)
"The fantasy creates tension and drama, but the best aspect of this book is the evocation of place, with such detail as the skills Simi has to learn and the village traditions of drumming and dancing. It is powerful too in its treatment of loss and of the relationships between Simi, her mother, her grandmother and the friends she makes. Clear, vigorous prose beckons the reader in." -- The Sunday Times (UK)
"Full of secrets and myths that we discover alongside Simi, whose mother raised her far from the old-fashioned reach of her own mother, priestess of the Yoruba deity Oshun. Drawn by a power greater than her own will, Simi discovers a forbidden lake of quicksand, what lies beneath it and what it means to her broken family." -- The Observer (UK)