Roar Like a Lion (Hardcover)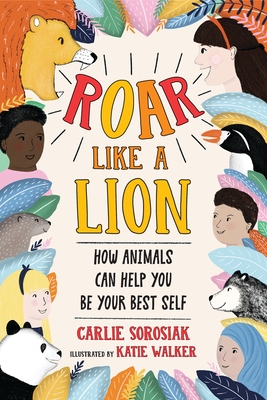 $14.99

On Our Shelves Now - Click to see location, time, and stock details
Description
---
From the UK bestselling author of I, Cosmo comes an inspirational guide to living your best life -- with a wild twist. Every animal is wonderful at being themselves, and if we're observant, we can let them teach us how to be our kindest, bravest, best selves as well.
Humans are a unique species, but still very much a part of the animal kingdom. We dream like cats, grieve like whales, bond like barn owls. In Roar Like a Lion, you'll find advice from some of the wisest creatures on Earth: Dogs who exhibit mindfulness. Penguins who pick perfect pebbles and refuse to care about what other penguins think. Every animal illustrates how they thrive, offering a model of how you might choose to thrive too. If we're willing to listen -- to follow the pawprints that lead us to that kinder, braver, more courageous way of life.
Bursting with fascinating facts, remarkable true stories and a whole lot of heart, Carlie Sorosiak has written an uplifting call to arms, inspiring children to listen to the roar of the wild and grow as human beings… while having plenty of fun along the way! Katie Walker's stylish illustrations build a real partnership between the words and pictures. A stunning package that can make a real difference in children's lives, Roar Like a Lion sparkles with wit, wisdom and warmth.
About the Author
---
Author of I, Cosmo, and My Life as a Cat, Carlie Sorosiak grew up in North Carolina and holds two master's degrees: one in English from the University of Oxford and another in creative writing and publishing from City, University of London. Her life goals include traveling to all seven continents and fostering many polydactyl cats. She currently splits her time between the United States and the United Kingdom.
Praise For…
---
"This is a great read for animal lovers (full of interesting information) or any young reader needing a smile (images of pandas somersaulting in the snow are sure to elicit grins) and some encouragement through the trials of life…Like life, grab this book with both paws!" – Kirkus Reviews
"Full of facts and remarkable true stories wise and uplifting." The Bookseller (Editor's Choice)