Rainbow! Volume 1 (Original Graphic Novel) (Paperback)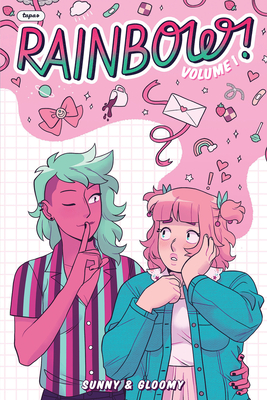 $16.99

Coming Soon - Available for Pre-Order Now
Description
---
From Tapas Media, the same webtoon platform that brought you Magical Boy, comes Rainbow!, a new LGBTQ+ YA graphic novel series!
Teenager Boo Meadows has pink hair and a very vivid imagination -- she has trouble separating from the real world. In her daydreams, she dances beautifully at balls or fights monsters as a magical girl. In reality, she has a complicated home life, work stress, school stress, and a wicked crush on the girl of her dreams. When a new student, Mimi, arrives at school, Boo starts exploring a side of herself that she never considered before. As she grows closer with Mimi, it may finally be time for Boo to face reality . . . Who is the real Mimi? The one in her dreams? Or the one in real life?
Rainbow! is perfect for fans of Heartstopper and Magical Boy, full of heart, adorable illustrations, and a storyline that any teenager can relate to!
About the Author
---
Sunny Funkhouser AKA Sunny (they/them), is a neurodivergent, queer creator who has been writing ever since they were a teenager. Sunny is autistic with ADHD and likes to collect dolls, make reborn dolls, crochet, act, and sew. They love learning how to do things creatively. An avid table-top gamer, Sunny is a big fan of Dungeons & Dragons and Magic the Gathering. Musical theater is their other love aside from writing and Gloomy. They're also an ENFP for people that like that sort of thing.

Angel AKA Gloomy has been making comics since they were 10, starting with a lovingly crafted Sailor Moon rip-off. Despite the soft magical girl influence in their work, their favorite genre is horror. Besides drawing, Gloomy loves to bake and garden (in theory, if they could only keep things alive), as well as collect merchandise from whatever is currently suiting their fancy, typically cutesy things like Ghibli or Sanrio. Opposite Sunny, they're as introverted as they come, but consider themselves friendly anyway. They're also obsessed with bagels.