By the Book (A Meant To Be Novel): A Meant to be Novel (Paperback)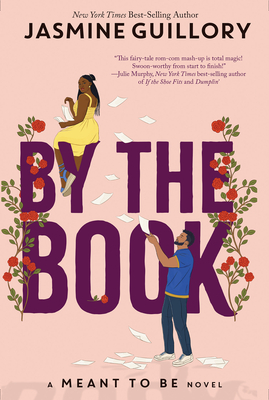 Staff Reviews
---
I am officially a Jasmine Guillory stan staff pick! Literally, gushing this book gave me butterflies and had me smiling the whole time! A modern day telling of Beauty and The Beast <3 Our main character Isabelle, editorial assistant at Tale As Old As Time, voluteers herself to fly across the country to get an update on an author, Beau, they have been trying to contact for months! When her trip lasts longer than planned she soon finds out that not every thing is black and white. If you love books about books this will be your favorite weekend read. Get the glass of wine ready trust me you'll need it!
— Chardai
Description
---
Sometimes to truly know a person, you have to read between the lines.

Isabelle is completely lost. When she first began her career in publishing after college, she did not expect to be twenty-five, still living at home, and one of the few Black employees at her publishing house. Overworked and underpaid, constantly torn between speaking up or stifling herself, Izzy thinks there must be more to this publishing life. So when she overhears her boss complaining about a beastly high-profile author who has failed to deliver his long-awaited manuscript, Isabelle sees an opportunity to finally get the promotion she deserves.

All she has to do is go to the author's Santa Barbara mansion and give him a pep talk or three. How hard could it be?

But Izzy quickly finds out she is in over her head. Beau Towers is not some celebrity lightweight writing a tell-all memoir. He is jaded and withdrawn and—it turns out—just as lost as Izzy. But despite his standoffishness, Izzy needs Beau to deliver, and with her encouragement, his story begins to spill onto the page. They soon discover they have more in common than either of them expected, and as their deadline nears, Izzy and Beau begin to realize there may be something there that wasn't there before.

Best-selling author Jasmine Guillory's achingly romantic reimagining of a classic is a tale as old as time . . . for a new generation.

About the Author
---
Jasmine Guillory is a New York Times bestselling author of novels including The Wedding Date, the Reese's Book Club selection The Proposal, and While We Were Dating. Her work has appeared in the Wall Street Journal, Cosmopolitan, Bon Appétit, and Time, and she is a frequent book contributor on the Today show. She lives in Oakland, California.
Praise For…
---
"Endearing….A sweet read."
—Kirkus Reviews<br><br>

"Endearing….A sweet read."
—Kirkus Reviews<br><br>

BY THE BOOK is in my hands and I could not be any more excited to celebrate it! Jasmine is on a short list of my tried and true comfort-read authors. I don't know how she manages to weave such depth into her characters while still making the whole reading experience feel SO GOOD AND NICE but she does, every single time.

—Emily Henry, #1 New York Times bestselling author of PEOPLE WE MEET ON VACATION and BEACH READ<br>

BY THE BOOK is in my hands and I could not be any more excited to celebrate it! Jasmine is on a short list of my tried and true comfort-read authors. I don't know how she manages to weave such depth into her characters while still making the whole reading experience feel SO GOOD AND NICE but she does, every single time.

—Emily Henry, #1 New York Times bestselling author of PEOPLE WE MEET ON VACATION and BEACH READ<br>

My cheeks hurt from smiling through this delightful book for adults who haven't outgrown fairytales. And speaking of magic, how does Jasmine Guillory keep getting better and better?

—Jodi Picoult, New York Times bestselling author of WISH YOU WERE HERE<br>

My cheeks hurt from smiling through this delightful book for adults who haven't outgrown fairytales. And speaking of magic, how does Jasmine Guillory keep getting better and better?

—Jodi Picoult, New York Times bestselling author of WISH YOU WERE HERE<br>

This book is a delight from start to finish.
—PopSugar.com<br>

This book is a delight from start to finish.
—PopSugar.com<br>

This fairytale rom-com mashup is total magic! Swoon-worthy from start to finish!
—Julie Murphy, New York Times best-selling author of IF THE SHOE FITS and DUMPLIN'

This fairytale rom-com mashup is total magic! Swoon-worthy from start to finish!
—Julie Murphy, New York Times best-selling author of IF THE SHOE FITS and DUMPLIN'