Lady of Hay: Two Women, Eight Hundred Years, and the Destiny They Share (Paperback)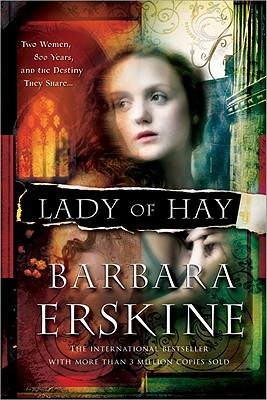 Description
---
Two Women, Eight Hundred Years, and the Destiny They Share
With a story as mesmerizing as it is chilling, Lady of Hay explores how Jo, a journalist investigating hypnotic regression, plunges into the life of Matilda, Lady of Hay—who lived eight hundred years earlier. As she learns of Matilda's unhappy marriage, her troubled love for Richard de Clare, and the brutal treatment she received from King John, it seems that Jo's past and present are hopelessly entwined. Centuries later, a story of secret passion and unspeakable treachery is about to begin again—and she has no choice but to brave both lives if she wants to shake the iron grip of history.
Praise for Barbara Erskine:
"So well researched and so well written that it is almost impossible to put down. The novel has everything that readers of racy fiction could ask for: beautiful characters, exotic settings, and passion...situations and characters that are so completely convincing that they come to life."—Philadelphia Inquirer
"Told with hair-raising intensity, this is a gripping tale."—Daily News
"Barbara Erskine is a superb storyteller."—Los Angeles Daily News
"Fascinating, absorbing, original—all such praise comes easily when describing Barbara Erskine's Lady of Hay. But perhaps the most suitable word is hypnotic."—She
"Barbara Erskine can make us feel the cold, smell the filth, and experience some of the fear of the power of evil men...The author's storytelling talent is undeniable."—Times of London
About the Author
---
Barbara Erskine (UK) is a historian and internationally bestselling writer whose first novel blending the historical and the supernatural catapulted her to success. Her books include Lady of Hay, Daughters of Fire, Hiding from the Light, Kingdom of Shadows, Child of the Phoenix, Midnight is a Lonely Place, and House of Echoes. Her books have sold more than 3 million copies worldwide, and she is published in 24 languages.
Praise For…
---
"One of the most intriguing, fascinating books I've read in a long time. " - Night Owl Romance

"Absorbing and hypnotic, Lady of Hay seethes and sizzles with emotions that often erupt out of control... captivating." - The Long and Short of It Reviews

"Barbara Erskine is a wondrous storyteller... one of the richest historical novels I have read this year." - Bookworm's Dinner

"I was completely fascinated by both time periods and leading ladies." - Books Like Breathing

"Erskine is a master storyteller... Kudos to Sourcebooks for reprinting this very entertaining novel." - Historical Novels Review

"Lady of Hay is brilliantly developed, chock full of drama to keep the reader turning the pages long into the night... [Barbar Erskine] is a masterful storyteller." - Rundpinne

"A well thought out, detailed story with so many twists and turns it gave the plot a new dimension. " - The Romance Studio

"Exceptionally vivid... A spooky, quasi-supernatural thriller. " - HistoricalNovels.info

"This wonderful mix of time travel/reincarnation set in real historical settings will capture your imagination." - Queen of Happy Endings

"The story will grab your imagination and take you on a ride of twists and turns filled with intrigue, treachery, and lots of passion." - Thoughts in Progress