The Lion on the Bus (Paperback)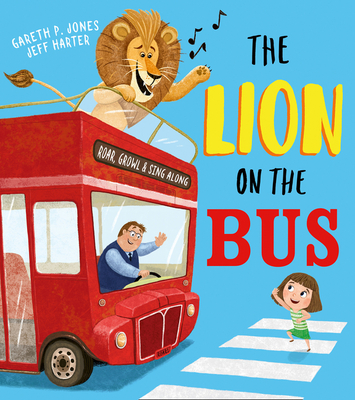 Description
---
A toothsome take on a much loved nursery rhyme - with an all-singing, all-dancing finale
Sing, roar and growl along with the animals, in this brilliantly bonkers twist on the classic Wheels on the Bus
The wheels on the bus go round and round ...
But who's that getting on? OH, NO
It's a LION And a PANTHER And a CROCODILE
This bus ride is about to get very wild - but is it really as scary as it seems?
An irresistible combination of favourite animals, shout-aloud vehicle noises and a much loved storytime rhyme - with a light-touch message of friendship and acceptance.
Perfect for fans of You Can't Take an Elephant on the Bus and Never Tickle a Tiger.
About the Author
---
Gareth P. Jones is the author of Rabunzel, Cindergorilla and The Lion on the Bus, as well as The Dragon Detective Agency and Ninja Meerkats series, and The Considine Curse, winner of the Blue Peter Book of the Year Prize 2012. Jeff Harter is a freelancer illustrator and Professor of Illustration at the Cleveland Institute of Art. Before becoming a full-time illustrator, he worked at Walt Disney Animation Studio, working on films including Hercules, Mulan and Tarzan, and Winnie-the-Pooh.