The Gratitude Diaries: How a Year Looking on the Bright Side Can Transform Your Life (Large Print / Hardcover)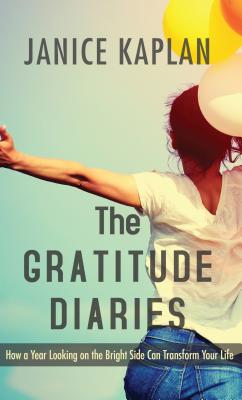 Description
---
In this inspiring memoir backed by cutting-edge research, Janice Kaplan spends a year living gratefully and gains a fresh outlook that transforms her marriage, family life, work, health, and everyday experience.
The Gratitude Diaries follows journalist and former Parade editor in chief Janice Kaplan as she learns to gain a positive perspective and improve her life by becoming more grateful every day. In her fresh and witty journey, Kaplan discovers that gratitude isn't the same as happiness (which can be fragile and fleeting) but has deeper emotional roots, is longer-lasting, and is impervious to change or challenges.
Relying on both amusing personal experiences and extensive research, Kaplan discovers how gratitude can transform every aspect of life, including marriage and friendship, money and ambition, and health and fitness. She interviews dozens of experts--including doctors, neuroscientists, researchers, academics, and philosophers--and gathers extensive data from the national gratitude survey she conducted, to offer surprising findings about why gratitude changes your outlook in any situation. Through interviews with real people including celebrities like Matt Damon, Daniel Craig, and Barbra Streisand, Kaplan discovers why gratitude matters in everything from our success at work to our children's happiness.
With warmth, humor, and vision, Janice's journey seeks to empower readers to start thinking positively and change their lives.
About the Author
---
Janice Kaplan has enjoyed wide success as a magazine editor, television producer, writer, and journalist. She is the author or coauthor of twelve books, including I'll See You Again, which spent six weeks on the New York Times bestseller list. She lives in New York City and Kent, Connecticut.