How It Works Out: A Novel (Hardcover)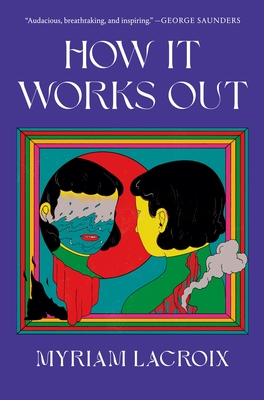 $27.00

Coming Soon - Available for Pre-Order Now
Description
---
"What an audacious, breathtaking, and inspiring debut. The power of this formally innovative and deeply funny book is that everything exists to serve the compassionate heart at its core. Myriam Lacroix's work is a cause for celebration."
—GEORGE SAUNDERS, #1 New York Times bestselling author of Lincoln in the Bardo and Liberation Day

Surreal, darkly comic, and achingly tender, Myriam Lacroix's exuberant debut sees a queer love story play out in many alternate realities

What if you had the chance to rewrite the course of your relationship, again and again, in the hopes that it would work out?

When Myriam and Allison fall in love at a show in a run-down punk house, their relationship begins to unfold through a series of hypotheticals. What if they became mothers by finding a baby in an alley? What if the only cure for Myriam's depression was Allison's flesh? What if they were B-list celebrities, famous for writing a book about building healthy lesbian relationships? How much darker—or sexier—would their dynamic be if one were a power-hungry CEO, and the other her lowly employee? From the fantasies of early romance to the slow encroaching of violence that unravels the fantasy, each reality builds to complete a brilliant, painfully funny portrait of love's many promises and perils.

Equal parts sexy and profane, unsentimental, and gut-wrenching, How It Works Out is a genre-bending, arresting, uncanny exploration of queerness, love, and our drive for connection, in any and all possible worlds.
About the Author
---
Myriam Lacroix was born in Montreal to a Québécois mother and a Moroccan father, and currently lives in Vancouver, British Columbia. She has a BFA in creative writing from the University of British Columbia and an MFA from Syracuse University, where she was editor in chief of Salt Hill Journal and received the New York Public Humanities Fellowship for creating Out-Front, an LGBTQ+ writing group whose goal was to expand the possibilities of queer writing.
Praise For…
---
"What an audacious, breathtaking, and inspiring debut. The power of this formally innovative and deeply funny book is that everything exists to serve the compassionate heart at its core. Myriam Lacroix's work is a cause for celebration."
— —GEORGE SAUNDERS, #1 New York Times bestselling author of Lincoln in the Bardo and Liberation Day

"How It Works Out is a delightfully bizarre and unabashedly queer revelation; a truly captivating exploration of love. Myriam Lacroix's kaleidoscopic first novel invites you to embrace the unconventional and revel in the multiverse of 'what-ifs' we only wish we could explore in our own relationships. We loved it."
— Tegan and Sara Quin, New York Times bestselling authors of High School