Don't Look for Me (Large Print / Paperback)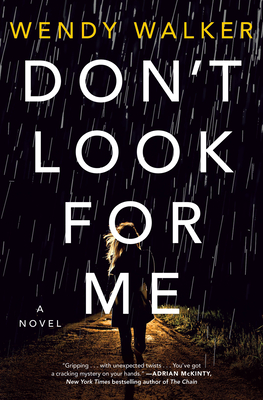 Description
---
In Wendy Walker's thrilling novel Don't Look for Me, the greatest risk isn't running away. It's running out of time.
One night, Molly Clarke walked away from her life. She doesn't want to be found. Or at least, that's the story. The car abandoned miles from home. The note found at a nearby hotel. The shattered family that couldn't be put back together. They called it a "walk away." It happens all the time. Women disappear, desperate to leave their lives behind and start over. But is that what really happened to Molly Clarke?
Don't Look For Me
is: "GRIPPING...WITH UNEXPECTED TWISTS... You've got a cracking mystery on your hands."
--Adrian McKinty, author of
The Chain
"A NAILBITER . . . SO MUCH MORE THAN A TWISTY THRILLER. It's a heartbreaking portrait of a family coping with grief and an insightful study of guilt and blame, gaslighting and agency. If you love fast-paced page-turners with relatable, flawed characters, look no further "
--Angie Kim, author of
Miracle Creek
About the Author
---
WENDY WALKER has worked as an attorney specializing in family law. Her novels include The Night Before, Emma in the Night, and All is Not Forgotten. She lives in Connecticut where she is at work on her next novel