Teach Boldly!: Letters to Teachers about Contemporary Issues in Education (Counterpoints #356) (Paperback)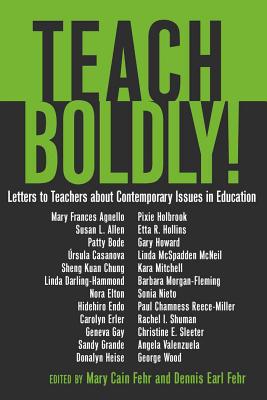 Other Books in Series
This is book number 356 in the Counterpoints series.
Description
---
In today's public schools, teachers are often discouraged by the restrictions placed on them by the education system: federal mandates such as No Child Left Behind, excessive emphasis on standardized testing, pre-packaged curricula, inadequate funding, overcrowded classrooms, cultural incongruence, and social injustices. Teachers feel thwarted from meeting the unique needs of each student, and students continue to fall between the cracks in the system. This book encourages educators to teach boldly, using wisdom and courage to do what they know is best for their students despite the obstacles. A collection of letters from leading educators and scholars to practicing and future teachers, Teach Boldly offers advice, encouragement, and inspiration in the form of bold, innovative ideas to ignite teachers' passion for their work in the midst of a range of discouraging situations. The book can be used as a resource for practicing teachers or as a textbook in teacher education programs. It is relevant to courses in foundations of education, curriculum studies, issues in education, education policy, critical pedagogy, ethics in education, school reform, and educational leadership.
About the Author
---
The Editors: Mary Cain Fehr is Assistant Professor of Curriculum and Instruction at Texas Tech University. A former classroom teacher, art teacher, and school district administrator, she holds a B.S. in elementary education, an M.Ed. in instructional technology, and a Ph.D. in curriculum and instruction. Dr. Fehr's mission as a teacher educator is to increase pre-service teachers' global and cultural understanding and prepare them to teach effectively in diverse classrooms. Dennis Earl Fehr is School of Art faculty at Texas Tech University. He taught English, reading, and art in the public schools for ten years prior to entering the University of Illinois' doctoral program in art education. He then accepted a position at the University of Houston, where he taught for ten more years before moving to Texas Tech. Dr. Fehr also directs the National Education Taskforce, a group of educators who advocate for children in schools.