On Language, Democracy, and Social Justice: Noam Chomsky's Critical Intervention- Foreword by Peter McLaren- Afterword by Pepi Leistyna (Counterpoints #458) (Paperback)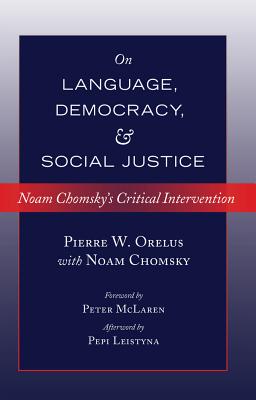 Other Books in Series
This is book number 458 in the Counterpoints series.
Description
---
Every century has witnessed the birth of a few world-transcending intellectuals as well as talented emerging scholars. Noam Chomsky and Pierre W. Orelus are no exception. Using dialogues exchanged over the course of nine years, combined with heartfelt critical essays, Chomsky and Orelus analytically examine social justice issues, such as unbalanced relationships between dominant and subjugated languages, democratic schooling, neoliberalism, colonization, and the harmful effect of Western globalization on developing countries, particularly on the poor living in those countries. On Language, Democracy, and Social Justice offers a unique perspective on these issues. Educators and scholar-activists interested in challenging the long-standing status quo to inspire transformative social, educational, and political change must read this book.
About the Author
---
Pierre W. Orelus is Assistant Professor in the Curriculum and Instruction Department at New Mexico State University. He is currently the co-chair of the Paulo Freire Special Interest Group at the American Educational Research Association. Professor Orelus has received several awards and fellowships, including a New Mexico State University Early Career Award for Exceptional Achievements in Creative Scholarly Activity. His most recent books include Whitecentricism and Linguoracism Exposed: Towards the De-centering of Whiteness and Decolonization of Schools (Peter Lang, 2014). Noam Chomsky is Institute Professor in the Department of Linguistics and Philosophy at the Massachusetts Institute of Technology. Chomsky is the recipient of numerous honorary degrees and awards and has written and lectured widely on linguistics, philosophy, intellectual history, contemporary issues, international affairs, and U.S. foreign policy. Among his more recent books are The Essential Chomsky (2008); Hopes and Prospects (2010); Gaza in Crisis (2010); How the World Works (2011); 9-11: Was There an Alternative? (2011); Making the Future: Occupations, Interventions, Empire, and Resistance (2012); The Science of Language (2012); Peace with Justice: Noam Chomsky in Australia (2012); and Power Systems (2014).