Reimagining the Public Intellectual in Education: Making Scholarship Matter (Counterpoints #463) (Paperback)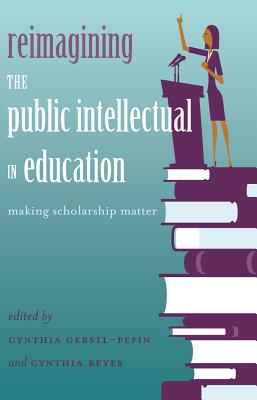 Other Books in Series
This is book number 463 in the Counterpoints series.
Description
---
This book builds upon the notion of the public intellectual in a way that makes the term more accessible, using it to refer to education scholars who seek to share their research outside of academia. The stories of public scholars highlighted here acknowledge that the policymaking arena is teeming with value conflicts that can lead to dismissing or ignoring research if it does not fit with political agendas.
About the Author
---
Cynthia Gerstl-Pepin, Professor of Educational Leadership and Foundations at the University of Vermont, received her PhD from the University of North Carolina at Chapel Hill. She served as a Fulbright Scholar to China, co-edited Survival of the Fittest: The Shifting Contours of Higher Education in China and the United States, co-authored Reframing Educational Politics for Social Justice, co-edited Social Justice Leadership for a Global World, and has been published in numerous journals. Cynthia Reyes is Associate Professor of Middle Level Education and Literacy Education at the University of Vermont. She received her doctorate from the University of Illinois at Chicago. She has published articles in various research journals including Educational Foundations and Research in the Teaching of English. Her research interests include digital literacy with English language learners, multilingual education and language policy, and narrative research.