What Can a Citizen Do? (Kids Story Books, Cute Children's Books, Kids Picture Books, Citizenship Books for Kids) (Hardcover)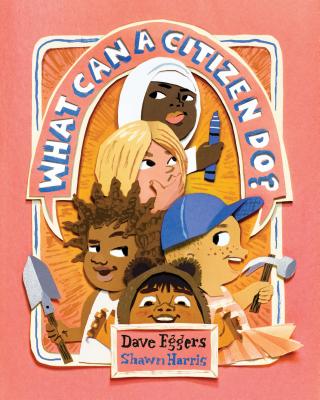 $17.99

Not In Store - Available to special order for pickup or ship. For even speediest shipping we suggest our Bookshop.org page!
Description
---
"[This] charming book provides examples and sends the message that citizens aren't born but are made by actions taken to help others and the world they live in."
—
The Washington Post
This is a book about what citizenship—good citizenship—means to you, and to us all:
Across the course of several seemingly unrelated but ultimately connected actions by different children, we watch how kids turn a lonely island into a community—and watch a journey from what the world should be to what the world could be.
What Can a Citizen Do? is the latest collaboration from the acclaimed behind the bestselling Her Right Foot: Dave Eggers and Shawn Harris.
For today's youngest readers about what it means to be a citizen and the positive role they can play in society.
Includes beautiful illustrations and intriguing, rhyming text.
"Obligatory reading for future informed citizens." —The New York TimesWhat Can a Citizen Do is an empowering and timeless read with an important message for all ages.
Great family read-aloud book
Books for kids ages 5-8
Picture books for grades K-3
About the Author
---
Dave Eggers is the author of many books, including Heroes of the Frontier, The Circle, and A Hologram for the King. He is the cofounder of: Voice of Witness, an oral-history series focused on human rights; 826 National, a network of writing and tutoring centers; and ScholarMatch, which connects donors and under-resourced students to make college possible. He lives in the San Francisco Bay Area.

Shawn Harris is an artist and musician who lives and works in Morongo Valley, California.
Praise For…
---
"This is such a beautiful book." -Mayor Keisha Lance Bottoms, City of Atlanta

"This book is about more than being a good citizen; it's about being a good person. And that's why Eggers and Harris have created the exact book we all need on our kids' shelves right now." —Cool Mom Picks

"This book is about more than being a good citizen; it's about being a good person. And that's why Eggers and Harris have created the exact book we all need on our kids' shelves right now." —Cool Mom Picks

Publishers Weeky's Most Anticipated Children's Books of Fall 2018

"In an era of burgeoning student activism, Dave Eggers' new picture book What Can a Citizen Do? is arriving at the perfect time." —Entertainment Weekly

Publishers Weeky's Most Anticipated Children's Books of Fall 2018

"What Can a Citizen Do? by Dave Eggers raises the urgent question of how to be engaged, compassionate, and empowered, and the cut-paper illustrations by Shawn Harris are so fun and so richly detailed that kids will make new discoveries on every read. It's an absolute delight." -Maile Meloy, New York Times bestselling author of Do Not Become Alarmed and The Apothecary

"In an era of burgeoning student activism, Dave Eggers' new picture book What Can a Citizen Do? is arriving at the perfect time." —Entertainment Weekly

"What Can a Citizen Do? by Dave Eggers raises the urgent question of how to be engaged, compassionate, and empowered, and the cut-paper illustrations by Shawn Harris are so fun and so richly detailed that kids will make new discoveries on every read. It's an absolute delight." -Maile Meloy, New York Times bestselling author of Do Not Become Alarmed and The Apothecary

"Eggers's narration is. never less than stirring. Harris's illustrations. beautifully embody the messy realities and exciting potential of the civic enterprise." —Publishers Weekly

"Eggers and Harris ask what citizenship - good citizenship - means to us all." —Flavorwire

"Eggers's narration is. never less than stirring. Harris's illustrations. beautifully embody the messy realities and exciting potential of the civic enterprise." —Publishers Weekly

"Eggers and Harris ask what citizenship - good citizenship - means to us all." —Flavorwire

"Examines what it means to be a citizen, that is, a responsible and caring resident of whatever place in which one happens to live, and how we can all work to transform our world from what it is to what it could be." —The Buffalo News

"Examines what it means to be a citizen, that is, a responsible and caring resident of whatever place in which one happens to live, and how we can all work to transform our world from what it is to what it could be." —The Buffalo News

"Teaches young readers that being engaged and informed can turn anyone into an activist, no matter their age." —Time Magazine

"Teaches young readers that being engaged and informed can turn anyone into an activist, no matter their age." —Time Magazine

"This is such a beautiful book." -Mayor Keisha Lance Bottoms, City of Atlanta

"Obligatory reading for future informed citizens." —The New York Times

"Obligatory reading for future informed citizens." —The New York Times

"A rhythmic, rhyming call for kids to be good citizens." -Common Sense Media

"A rhythmic, rhyming call for kids to be good citizens." -Common Sense Media

"Clearly and joyfully informs young children that, as citizens, they can get involved and make a difference." --Literacy Daily

"Clearly and joyfully informs young children that, as citizens, they can get involved and make a difference." --Literacy Daily

"Dave Eggers has delivered another thought-provoking book to prime the consciousness of even the youngest readers." —School Library Connection

"Dave Eggers has delivered another thought-provoking book to prime the consciousness of even the youngest readers." —School Library Connection

"A playful, joyful 52-page rallying cry." -Mac Barnett, author of New York Times-bestselling picture books Sam Dave Dig a Hole and Extra Yarn

"A playful, joyful 52-page rallying cry." -Mac Barnett, author of New York Times-bestselling picture books Sam Dave Dig a Hole and Extra Yarn

"An elegant and affecting book about civic engagement for a world that really needs it." -Carson Ellis, Caldecott Honor-winning creator of Du Iz Tak? and Home

"An elegant and affecting book about civic engagement for a world that really needs it." -Carson Ellis, Caldecott Honor-winning creator of Du Iz Tak? and Home

"Eggers displays how citizens, even young ones (and even a bear!), can contribute to society. Harris' inclusive collages vibrantly depict a world of different types of citizens. This is also a book that adults will take something away from, especially in the midst of our current divisive politics." —Booklist

"Eggers displays how citizens, even young ones (and even a bear!), can contribute to society. Harris' inclusive collages vibrantly depict a world of different types of citizens. This is also a book that adults will take something away from, especially in the midst of our current divisive politics." —Booklist

"This must-have book distills the fundamentals of citizenship into easy-to-digest concepts and emphasizes the importance of caring for others, accepting differences, and taking action to initiate positive change." -School Library Journal, starred review

"This must-have book distills the fundamentals of citizenship into easy-to-digest concepts and emphasizes the importance of caring for others, accepting differences, and taking action to initiate positive change." -School Library Journal, starred review

"Spark a mind with Dave Eggers's heartening and galvanizing storybook. (The answer to the title? A whole lot, in fact.)" —Martha Stewart Living

"Spark a mind with Dave Eggers's heartening and galvanizing storybook. (The answer to the title? A whole lot, in fact.)" —Martha Stewart Living

"A primer for kids and a reminder for adults that citizenship is an active state, not passive one." —Book Riot

"A primer for kids and a reminder for adults that citizenship is an active state, not passive one." —Book Riot

"Invites active participation in society and politics, but it is also just a beautifully illustrated book. Illustrator Shawn Harris brings so much life and emotion and diversity to Egger's message, which tells children to care and to not be silent. I think we could all use these reminders>" —Romper

"Invites active participation in society and politics, but it is also just a beautifully illustrated book. Illustrator Shawn Harris brings so much life and emotion and diversity to Egger's message, which tells children to care and to not be silent. I think we could all use these reminders>" —Romper