Funny Gyal: My Fight Against Homophobia in Jamaica (Paperback)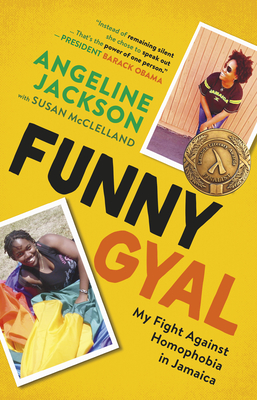 $12.99

On Our Shelves Now - Click to see location, time, and stock details
Description
---
Lambda Literary Award for LGBTQ+ Young Adult -- 2022 Finalist

"Instead of remaining silent, she chose to speak out ... That's the power of one person." -- Barack Obama

The inspiring story of Angeline Jackson, who stood up to Jamaica's oppression of queer youth to demand recognition and justice.

When Angeline Jackson was a child, she wondered if there was something wrong with her for wanting to kiss the other girls. But as her sexuality blossomed in her teens, she knew she wouldn't "grow out of it" and that her attraction to girls wasn't against God. In fact, she discovered that same-sex relationships were depicted in the Bible, which she read devoutly, even if the tight-knit evangelical Christian community she grew up in believed any sexual relationship outside of marriage between a man and woman was a sin, and her society, Jamaica, criminalized homosexual sex.

Angeline's story begins with her traumatic experience of "corrective rape" when she is lured by an online predator, then traces her childhood through her sexual and spiritual awakening as a teen -- falling in love, breaking up, coming out, and then being forced into conversion therapy.

Sometimes dark, always threadbare and honest, Funny Gyal chronicles how Angeline's faith deepens as a teenager, despite her parents' conservative values and the strict Christian Jamaican society in which she lives, giving her the courage to challenge gender violence, rape culture, and oppression.
About the Author
---
Angeline Jackson is an LGBTQ human rights activist, an HIV/AIDS educator, and the former executive director of Quality of Citizenship Jamaica. In 2015, President Barack Obama recognized Angeline as one of Jamaica's remarkable young leaders at the Town Hall for Youth in Kingston, Jamaica. Angeline participated in a U.S. Senate briefing panel on LGBT rights in 2014 and attended the first White House Forum on Global LGBT Human Rights. She lives in Jamaica.Susan McClelland is a non-fiction writer who has received a number of national and international awards. Her first book, Bite of the Mango, is the true story of a young Sierra Leonean victim of war and has been published in more than twenty countries. She is a former staff writer at Maclean's and has written for the Sunday Times, Marie Claire, Glamour, Ms Magazine, the Guardian, the Walrus, Chatelaine, and more. Susan splits her time between Toronto and Dumfries-Galloway in Scotland.