Starbreaker (Nightchaser) (Mass Market)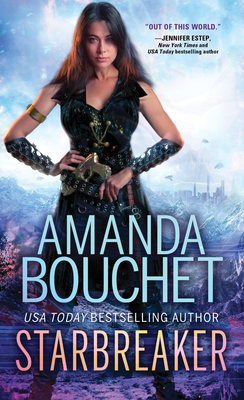 Other Books in Series
This is book number 2 in the Nightchaser series.
Description
---
In this thrilling and sexy sci-fi fantasy romance from USA Today bestselling author Amanda Bouchet, a space pirate and her charming rebel face off against unimaginable odds. They never wanted to be heroes, but pulling off the impossible is what they do best.
Captain Tess Bailey and rebel Shade Ganavan top the galaxy's Most Wanted list for more than one ruthless bounty hunter. With revolution in the wind and the universe on the brink of catastrophic war, their situation couldn't be more desperate. But that doesn't stop rebel leaders from sending them on another dangerous mission: a prison break that could alter worlds.
The clock is ticking. As their attraction builds and secrets are revealed, Tess and Shade must decide if they trust each other enough to execute the challenge before them. Together they could change the course of history, but to do so, they'll risk everything…their lives, their freedom, and a growing connection neither can live without.
What people are saying about Bouchet's bestselling paranormal romance:
"Tess and Shade are my new favorite romance couple."—Entertainment Weekly for Nightchaser
"Breathtakingly hot."—Booklist STARRED REVIEW
"Chock-full of intrigue, heroism, conflict, and sexual tension."—Kirkus STARRED REVIEW
"Out-of-this-world."—JENNIFER ESTEP, New York Times and USA Today bestselling author
About the Author
---
Amanda Bouchet is a USA Today bestselling author of Fantasy Romance and Sci-fi Romance. She was a Goodreads Choice Awards top 10 finalist for Best Debut in 2016. For more about Amanda's books with equal parts adventure and kissing, connect with her at www.amandabouchet.com.
Praise For…
---
"Riveting action, intergalactic adventure, and sizzling romance kept me on the edge of my seat until the very last page!" — Jessie Mihalik, author of Polaris Rising
"Bouchet opens up the world, but never loses the heart of her story: Tess & Shade. I didn't think I could love them more. I was wrong. Rich worldbuilding and deep character arcs abound. Be prepared to devour STARBREAKER." — Chelsea Mueller, author of The Soul Charmer series
"Starbreaker is full of high-stakes action, game-changing revelations, and intriguing characters who will steal your heart." — Jennifer Estep, New York Times and USA Today bestselling author of the Crown of Shards series
"Starbreaker is a dynamic ride, by turns steamy, thrilling, and deliciously romantic. This epic tale zooms between narrow escapes and daring rescues. Where do I sign up to be on the crew?" — Jeffe Kennedy, RITA® Award-winning author of The Orchid Throne and The Fiery Crown
"In Bouchet's hands, new loves and old loyalties come together like a match strike. Starbreaker's passion and adventure burn even in the cold of space." — Maria Vale, author of The Last Wolf
"The Nightchaser space opera continues with tons of action, romance, pathos, and fascinating worldbuilding. Another brilliant odyssey from Bouchet." —
Kirkus STARRED Review
"Bouchet amps up the action and shock factor." —
Library Journal
"Wow, what a thrilling ride! Bouchet is a queen at world-building and creating characters with depth, strength, and vulnerability. What I love most about Bouchet's voice and style is her ability to weave a gripping story with equal parts heart and heroism while taking the reader on a riveting ride. STARBREAKER is a prime example of sci-fi romance at its best!" — Juliette Cross, author of the Stay a Spell series
"Once again, Bouchet presents a fully imagined and continually surprising world and an alluring cast." —
Booklist STARRED Review